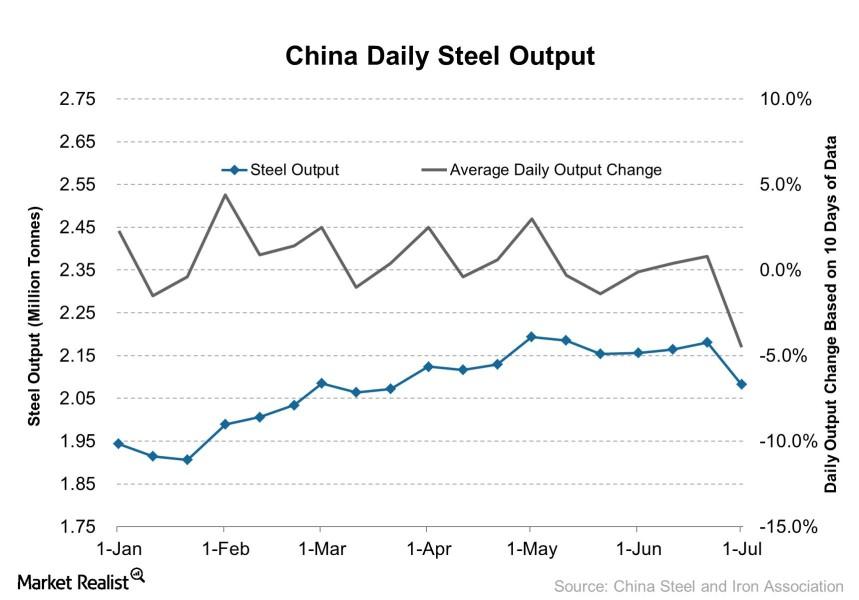 Early July steel output falls steeply, worrisome for dry bulk shipping stocks?
China's steel output
China's steel output is a leading indicator of iron ore and coal demand. When steel output declines, the fall is often due to adjustments to weaker demand. As China makes up 70% of the world's total iron ore imports, lower steel output will translate to fewer iron ore imports. This will hurt dry bulk shipping companies (which haul dry bulk materials across the ocean) as shipping rates fall.
Steepest daily output decline
Article continues below advertisement
A recent report from China Iron & Steel Association (CISA) estimated the steepest drop this year in daily steel output of -4.5% during the first ten days of July, compared to the last ten days of June. The estimate is based on its members of more than 70 steel mills that make up more than 80% of the country's total output. Based only on CISA's members, steel output fell 3.8% over the same period.
Maintenance is likely the reason for the fall
The report from Reuters didn't include an explanation for the decline. But maintenance is the likely reason, as some market sources on SteelMagazine.net indicated seasonal weakness from June to August. Otherwise, the decline would have been a warning sign, as interbank repo rates and credit default swap prices rose to a record recently, which has historically preceded lower economic and industrial output growth.
We can't rule out a weak market
Article continues below advertisement
Nonetheless, it's hard to rule out the possibility that some steel mills are taking advantage of the weak environment to schedule maintenance. Some small steel manufacturers have reportedly planned output cuts in May. But year-over-year output growth is unlikely to be negative, given that large state-affiliated enterprises have a moral obligation to keep workers employed. Steel manufacturers have also noted that even if they're making losses for each ton of steel produced, as long as the losses are small, it's usually cheaper for manufacturers to keep output constant than to keep furnaces idle only to restart them again later.
Wait for confirmation next month
Perhaps it's best not to read too much into the data and to wait for the monthly report to come out next month by China's National Bureau of Statistics. If year-over-year growth stalls significantly, it will portray a negative outlook for dry bulk companies such as DryShips Inc. (DRYS), Diana Shipping Inc. (DSX), Knightsbridge Tankers Ltd. (VLCCF), Safe Bulkers Inc. (SB), and Navios Maritime Partners LP (NMM).