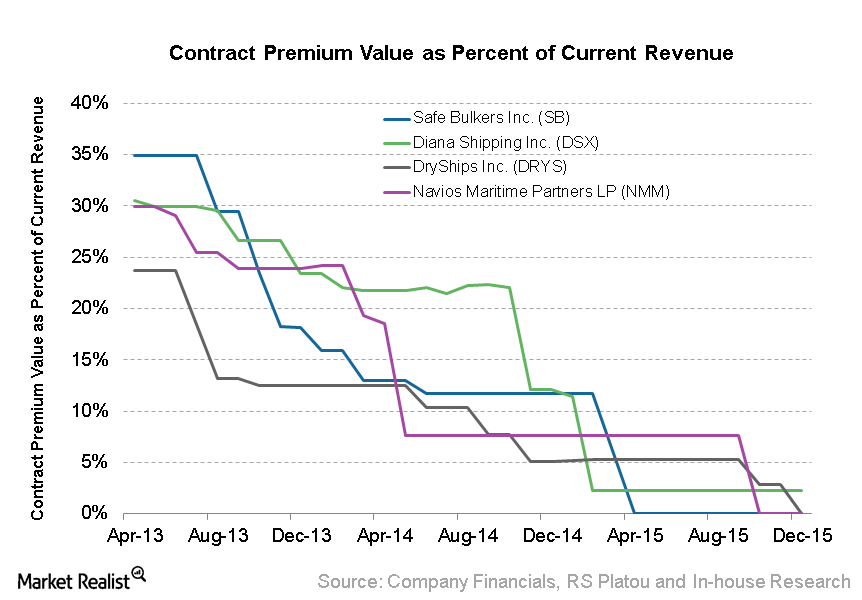 Maturing contracts present significant downside for certain shipping firms
By Xun Yao Chen

Nov. 20 2020, Updated 2:30 p.m. ET
The two main markets for shipping companies, such as DryShips Inc. (DRYS), Diana Shipping Inc. (DSX), Navios Maritime Partners LP (NMM) and Safe Bulkers Inc. (SB), are spot (voyage) and time charter (period). Companies that engage in the spot market will charge a one-time fee that customers pay to have a certain amount of goods shipped from one destination to another. On the other hand, companies in the time charter market will contract ships and operational services out for a specific period, usually one to two years, at a negotiated daily rate.
Double edged sword contracts
Article continues below advertisement
Using data extracted from dry bulk shipping companies' latest annual reports, the value of each firm's contracts was compared to the current time charter equivalent rates for the spot and time charter markets. The model also takes into account contract maturity dates to reflect how future revenues will be affected. As of June 7th, Safe Bulkers Inc. (SB) held the most valuable set of time charter contracts: their premiums make up roughly 35% of the company's total shipping revenue.
In a supply driven market with excess capacity, companies in time charter markets tend to outperform those in spot markets because of lagging shipping rates; firms that have longer-term contracts are able to shield themselves from declining industry fundamentals and falling shipping rates until contracts expire. However, when contracts expire, shipping companies will have to renegotiate prices at a lower rate, lowering revenues, earnings and free cash flows. Thus, it is important for investors to understand each dry bulk shipping companies' time charter contracts' maturity dates and negotiated rates.
Revenue to fall off the cliff
As early as July 2014, Safe Bulkers Inc. (SB) and DryShips Inc. (DRYS) will have to recontract their ships out at lower rates. Based on current 12-month time charter rates provided by RS Platou, an international ship and off-shore broker company, Safe Bulkers Inc. (SB) and DryShips Inc. (DRYS)'s dry bulk shipping revenues can drop up to 17% and 11%, respectively, if rates stay at current levels.
Even though ship orders reflect managers' optimism regarding the long-term outlook of the shipping industry, risk remains in the short to medium-term because of uncertainty surrounding the timing of shipping rates' recovery (see Baltic Rates articles under Shipping Indexes for more info) and current valuation multiples suggest the market has yet to price in lower future revenues (see article Diana Shipping: the most undervalued dry bulk shipping company under Financial Analysis). Investors looking to diversify company specific drivers, such as maturing contracts, can use the Guggenheim Shipping ETF (SEA), which invests in shipping companies worldwide and performs similar to the Dow Jones Global Shipping Index.