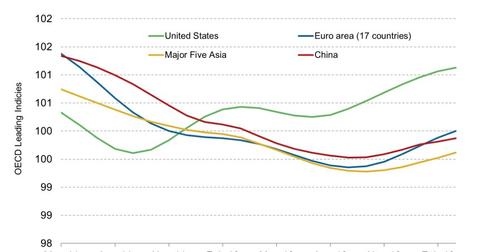 Leading indicators suggest better outlook for shipping companies in 2013
By Xun Yao Chen

Updated
Rising leading indicators
The latest data shows that leading indicators continued to rise for the Euro area, the five major developed Asian countries (Japan, China, Indonesia, India and Korea), and the United States in April, suggesting the global economy will continue to recover in 2013. According to the institution, the magnitude of change does not translate to the strength of weakness in economic growth, because of how the index was constructed. Thus, it is best used as an indicator of whether economic activity will be better or worse in the medium-term.
Article continues below advertisement
In the past, leading indicators have done fairly well in predicting the start of economic recession and recoveries (see Europe's leading indicator rises, supporting trade recovery as an example). Leading indicators for the Euro area and the five major Asian countries have all bottomed during the second half of last year as policymakers loosened monetary policy and some announced stimulus programs to support economic activity. Although economic fundamentals remain weak due to Europe's austerity measures and China's tightening of property market (see China's April manufacturing eases, but 3 drivers may support dry bulks), which has had people worried from time to time, OECD's leading indicator suggests economic activity should continue to recover throughout 2013.
Dry bulk demand
As the global economy recovers, shipping companies, such as DryShips Inc. (DRYS), Diana Shipping Inc. (DSX), Navios Maritime Partners LP (NMM) and Safe Bulkers Inc. (SB), should benefit from higher demand for key dry bulk materials, such as iron ore and coal. Given that policymakers have room to lower interest rate to incentivize people or businesses to borrow more or spend more (see Policymakers to support shipping demand growth this year), leading indicators should continue to rise in the short to medium-term. The Guggenheim Shipping ETF (SEA), which invests in global shipping companies that transport dry bulk raw materials, oil, and other industrial products, should also benefit from higher demand this year.