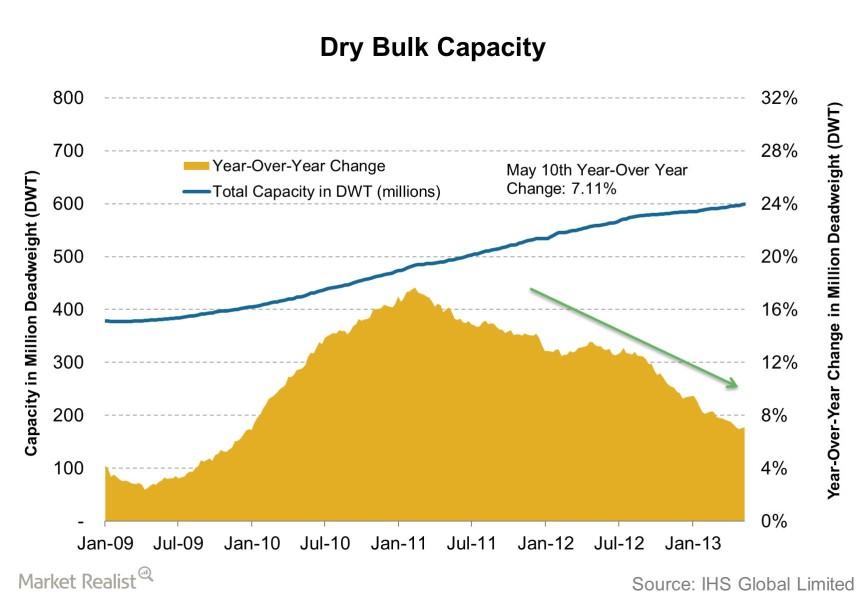 Current positive data shows supply to grow below 7% in 2013
Current capacity growth
For the week ending May 10th, dry bulk ship capacity grew 7.11% year-over-year to 598.76 million dwt, higher than the week ending May 3rd's change of 7.03%.[1. DWT: a weight measurement that indicates the amount a ship can safely carry and transport across oceans.] This is negative as it is higher than Jefferies' minimum growth estimate of 6% for dry bulk trade in 2013. If supply growth remains higher than demand growth this year, shipping rates will remain pressured, which will hurt companies' revenues, earnings, cash flows and share prices.
Article continues below advertisement
On a positive note, capacity grew by just 0.12% on a week to week basis. Since 2013, the average weekly growth rate was 0.12% as of May 10th. As it is necessary for week-over-week capacity growth to stay below 0.12% on average for capacity to grow less than 6.6% in 2013, last week's data is encouraging. While recent data shows capacity growth has yet to fall further, the dry bulk industry has shown substantial progress since the beginning of 2011 when capacity was growing at 16% year-over-year, primarily driven by over purchases of new ship builds as managers became too optimistic with future trade growth before the financial crisis.
Outlook for later half of 2013
Although China's iron ore import volume, which makes up ~20% of global dry bulk trade, will unlikely grow as fast as it once did (see Dry bulk shipping demand growth will unlikely hit pre-2008 levels for further details), the probability that demand growth will outpace supply growth this year looks more promising as current data suggests capacity will grow below 7% in 2013. Dry bulk firms, such as DRYS, DSX, NMM and SB, will continue to face headwinds in the short to medium-term since capacity growth remains elevated, April's manufacturing numbers pointed to a weak industrial sector, which highly correlates with dry bulk trade, and several valuable contracts will likely expire (see Why Diana will outperform Safe Bulker and Navios Maritime).
However, based on ship orders (see Dry bulk shipping at inflection point, order trend remain positive) policymakers will likely support demand over the medium to long-term (see China's April manufacturing eases, but 3 drivers may support dry bulks) as inflation remains low. For investors looking to diversify investments across several companies, they can look towards the Guggenheim Shipping ETF (SEA), which invests in the largest shipping companies worldwide.