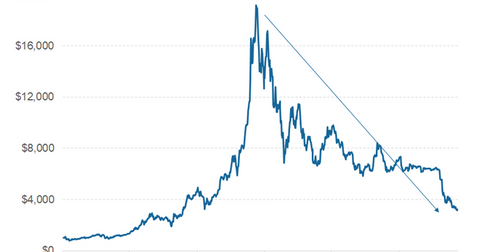 Gundlach Sees a 25% Upside in Bitcoin, Still Advises to Get Out
By Anuradha Garg

Updated
Gundlach called Bitcoin's crash
Jeffrey Gundlach correctly called Bitcoin's (BTC) crash after the cryptocurrency's peak in December 2017. Gundlach compared Bitcoin's (XBT) movement with the dot-com bubble. 
He said, "It was so obvious to me that bitcoin is the dot-com of our world (SPY) (VTI) today, and this mania is so similar to where we were in 1999." He added, "Bitcoin very clearly leads risk assets."
Article continues below advertisement
Other investors on Bitcoin
Gundlach isn't the only prominent investor who is critical of Bitcoin. Warren Buffett, Berkshire Hathaway's (BRK-B) chair, has been critical of cryptocurrencies. Last year, he called Bitcoin "rat poison squared." He also said, "In terms of cryptocurrencies, generally, I can say with almost certainty that they will come to a bad ending."
Gundlach: 25% upside in Bitcoin
However, in contrast to his view on Bitcoin for 2018, Gundlach predicted that Bitcoin could easily rise 25% and return to the $5,000 price point. However, he still doesn't recommend making any moves on Bitcoin. 
As reported by CNBC, he said, "I don't recommend anything with bitcoin, really … but if you really want to speculate, I think it could make it to $5,000. Talk about an easy 25 percent." He also advised investors to "get the heck out of bitcoin."