Tilray Goes SNDL's Way and Bets on Marijuana Legalization With MedMen
Tilray (TLRY) stock was trading higher in premarkets on Aug. 18 after the marijuana giant announced that it would acquire the convertible debt of U.S. marijuana retailor MedMen. What's the forecast for Tilray stock and does the MedMen acquisition make strategic sense for the company?
Article continues below advertisement
Tilray and Aphria merged in May 2021 to create the world's largest marijuana company with a global imprint. Markets reacted positively to the merger and both of the stocks soared on the merger news. Markets are giving a thumbs up to the news of Tilray's acquisition of MedMen stake also.
Tilray stock news
Tilray has announced the acquisition of around 75 percent of MedMen's outstanding convertible debt and 65 percent of warrants along with other investors. After the conversion of these instruments, the investment would imply a roughly 21 percent stake in MedMen. The conversion would be subject to federal legalization of marijuana or Tilray's waiver of that condition.
Article continues below advertisement
Federal marijuana legalization
While several U.S. states have gradually legalized adult-use marijuana, it's still banned at the federal level. President Biden's election as the U.S. president and later the Democrat majority in the Senate raised hopes of marijuana legalization. However, the administration has had other priorities.
Article continues below advertisement
Senate Majority Leader Chuck Schumer introduced a marijuana legalization bill in July. Those who argue for a federal legalization point to the massive illegal sales of marijuana to support their argument. Federal legalization could help channel illegal marijuana sales into the legal system.
Article continues below advertisement
Does Tilray's MedMen acquisition make sense?
Tilray's acquisition of MedMen makes perfect sense. The move signals Tilray's intent to target the U.S. marijuana markets. Also, it's another sign of consolidation in the highly fragmented marijuana industry where most players are making losses. Even MedMen, which was once the largest U.S. marijuana company, has been saddled with losses for years.
Tilray's acquisition of the stake in troubled MedMen draws parallels with Sundial Growers (SNDL). Flush with cash from a flurry of the stock sale, SNDL has been investing and lending to troubled marijuana companies. SNDL might also look at acquiring a U.S. marijuana company and enter the U.S. market.
Article continues below advertisement
Tilray CEO Irwin Simon termed the transaction with MedMen as "game-changing" and called the company "one of the most recognized brands in the $80 billion U.S. cannabis market."
Article continues below advertisement
TLRY stock forecast
According to the estimates from TipRanks, Tilray has an average target price of $19.67, which is an almost 50 percent premium over the closing prices on Aug. 17. The stock has four buys and six hold ratings.
Tilray stock's long-term forecast
Tilray is looking at shareholder approval to increase its authorized share count to complete the MedMen transaction and to look at other strategic acquisitions. The company is targeting revenues of $4 billion by fiscal 2024. To put that in context, analysts don't expect Tilray to post $1 billion in revenues even by fiscal 2023.
Article continues below advertisement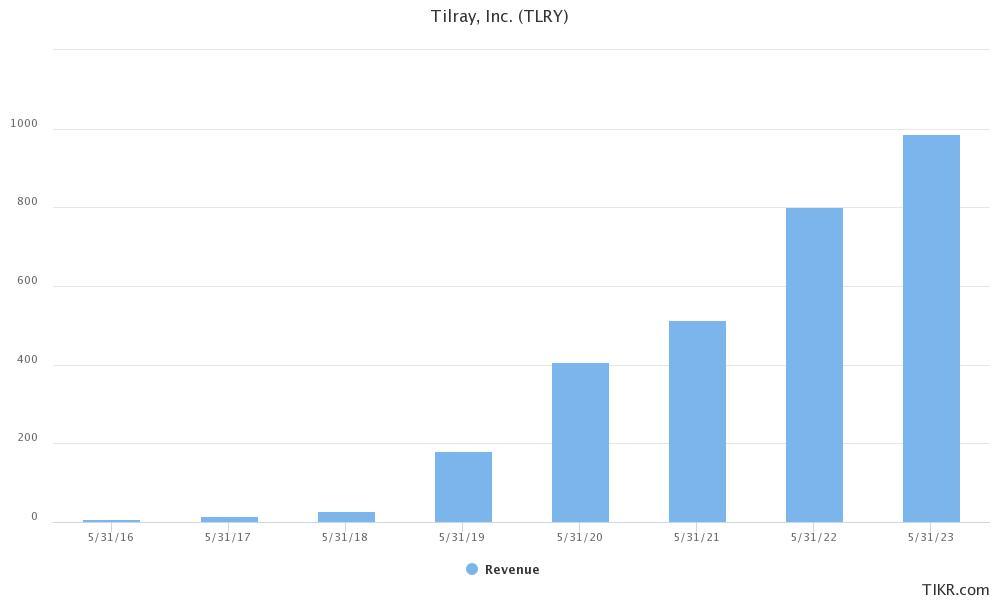 A large part of the growth that Simon is targeting might come from acquisitions. This would invariably mean dilution since the company would have to issue new shares to finance the acquisitions. However, if the company can come up with accretive acquisitions that have synergies, TLRY stock would turn out to be a winner in the long term.