Aurora Cannabis (ACB) Stock Is a Good Buy to Bet on a Turnaround
Aurora Cannabis (ACB) is restructuring its business. The stock is down 47 percent from its 52-week highs amid the sell-off in marijuana stocks. However, marijuana stocks, including ACB, have been on an uptrend amid the renewed chatter of federal legalization of marijuana in the U.S. Is ACB a good marijuana stock to buy and bet on the turnaround?
Article continues below advertisement
Marijuana stocks have been on a wild ride. The sector looked weak after peaking in 2018. However, Joe Biden's election win fueled new life for marijuana names. Legalization hopes got another boost after the Democrats took control of the Senate. The stars looked well aligned for the marijuana industry at the beginning of 2021.
Why marijuana stocks fell
Marijuana stocks fell from their peaks as legalization hopes faded. Also, there was a sell-off in growth stocks, which have their earnings skewed to the future. Investors pivoted their portfolios towards value stocks.
Article continues below advertisement
Why ACB stock fell
Along with a sector-wide sell-off, Aurora Cannabis was plagued by company-specific factors. In May, the company released its earnings for the third quarter of fiscal 2021, which missed the top line and the bottom line. It also talked about another stock offering and did a massive inventory write-down. Unsurprisingly, ACB stock crashed after the earnings release.
Article continues below advertisement
What's next for Aurora Cannabis stock?
On the macro level, the sentiments towards marijuana stocks are improving. The MORE (Marijuana Opportunity Reinvestment and Expungement) Act has been reintroduced in the House. Companies like Amazon have also put their weight behind federal marijuana legalization.
Article continues below advertisement
On the micro-level, Aurora Cannabis has been undergoing a restructuring across its business. It has restructured its balance sheet and repaid its credit facility. Like many other marijuana companies, ACB has raised cash by selling shares. The company is using the money to strengthen its balance sheet. Even after repaying the debt, Aurora Cannabis had $430 million as cash at the end of May.
Aurora Cannabis is restructuring its business.
The company has also restructured its top management. Michael Singer stepped down from the post of chairman and Ronald Funk, who was the lead independent director, has taken over the position.
Article continues below advertisement
Aurora Cannabis has moved to a contract sales force. Also, it has moved the U.S. listing from the NYSE to Nasdaq, which will help it save costs. It has taken several other measures to lower the cost base and has identified several cost reduction opportunities.
Article continues below advertisement
The company is also pivoting towards premium products—a strategy many other marijuana companies are deploying. Aurora Cannabis is working towards making the business cash flow positive on a sustainable basis.
Article continues below advertisement
Is ACB a good stock to buy now?
Management's projections should always be taken with a pinch of salt. The company has missed the guidance of turning EBITDA positive in the past. The marijuana industry was also hit by the COVID-19 pandemic in 2020, which had a negative impact on its revenues and profitability.
Looking forward, things seem to be getting better for ACB stock. It could look at an acquisition in the U.S. and has the authorization to raise $300 million by selling shares. The company doesn't need the funds for its operations, but it could deploy the funds if it finds accretive opportunities.
Article continues below advertisement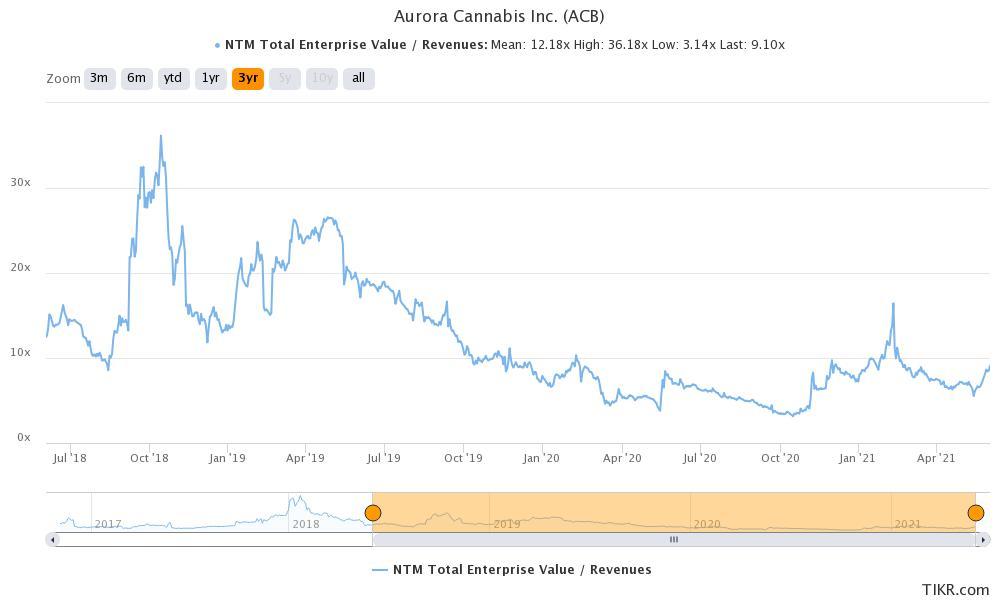 ACB stock looks undervalued.
ACB stock trades at an NTM EV-to-revenue multiple of 9.1x, which doesn't seem high. Also, it trades at around 1.1x of its book value. Aurora Cannabis has a diversified revenue base across the medical and adult-use portfolio. It has operations in the European medical marijuana market.
With the company focusing on a turnaround and the macro sentiments improving, I think that ACB stock is attractive at these prices.