Sundial Growers Wants to Be the Berkshire Hathaway of Marijuana
Meme stocks have made waves in the first quarter of 2021 amid pumping by the Reddit group WallStreetBets. However, the short-squeeze-driven rally has unfolded and meme stocks have fallen hard. Sundial Growers (SNDL), which was once a Reddit favorite, is down almost 78 percent from its 52-week highs. What's the prediction for SNDL stock price in 2021? Will it rise or fall?
Article continues below advertisement
Like all of the stocks that were pumped by WallStreetBets, SNDL has settled at a higher price level than it traded before the short squeeze. Also, like most other meme stocks, SNDL capitalized on the rise in its stock price and raised capital by selling shares.
Number of SNDL shares
SNDL has 1.66 billion outstanding shares. To put that in perspective, the number of outstanding shares was below 100 million when it went public in 2019. However, in a bid to survive and bridge its cash burn, it had to resort to capital raise.
Article continues below advertisement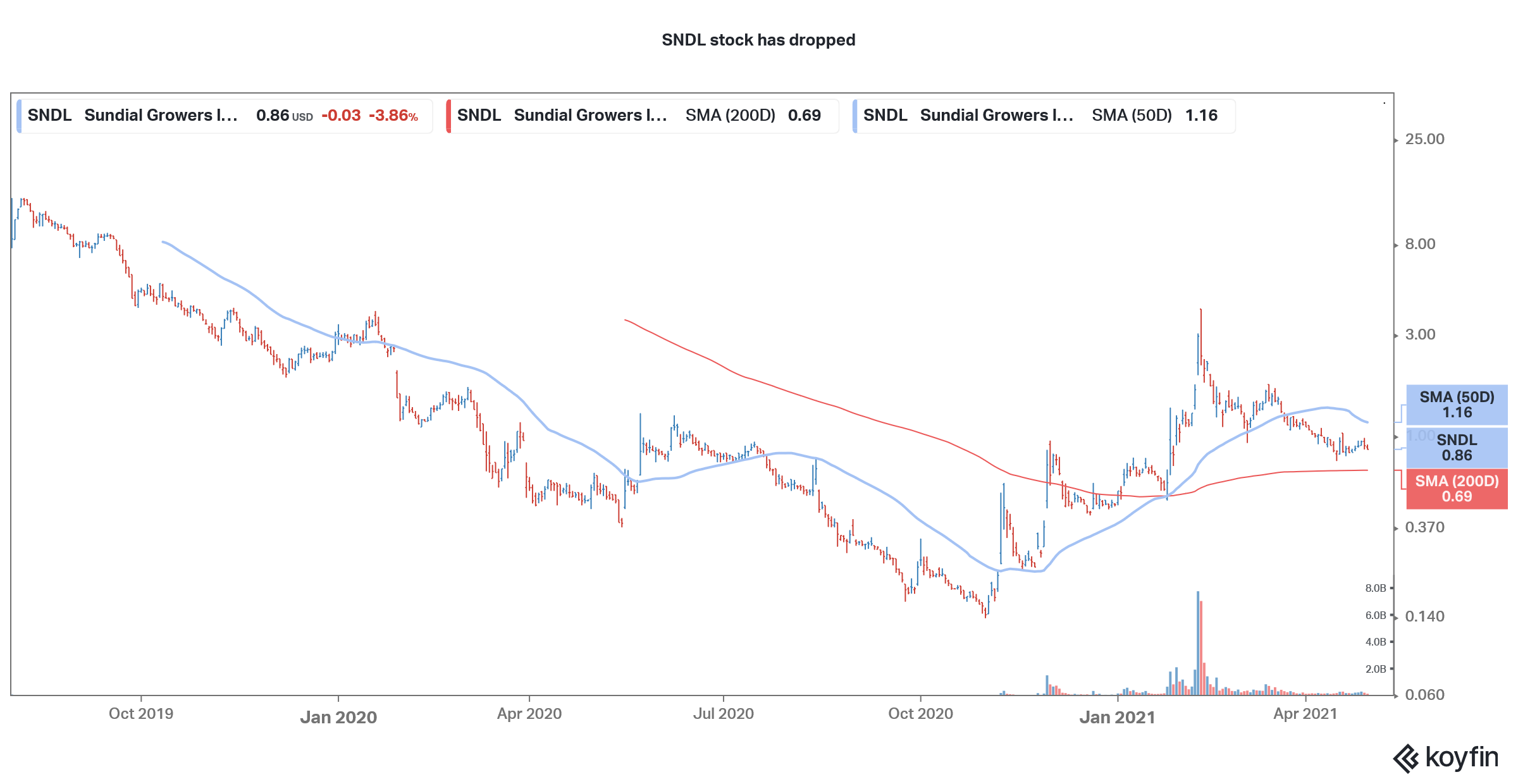 Article continues below advertisement
SNDL's business
There are three parts of Sundial Growers' business. The first two, wholesale and value-add marijuana products, are the core part of the business. The company has been cutting down on wholesales and focusing on the value-add products like most other marijuana companies. The third part of the business is the investment part, thanks to the generous capital raise over the last year.
Article continues below advertisement
From a bloating debt pile, SNDL is now a zero-debt company and has $585 million as cash on its balance sheet. Since the core business doesn't need this cash, the company is transforming into a proxy investment vehicle.
Think of SNDL as a marijuana ETF or a SPAC
To be sure, the core part of Sundial Growers' business isn't doing well looking at the financials. The company is only a Canadian play and doesn't have U.S. operations where most of the action lies. Its value-add products are facing tough competition and have been losing market share. SNDL also had to write off inventory in the most recent quarter.
Article continues below advertisement
However, the "investment" side of the business is what makes SNDL interesting. The company is lending money at attractive terms to fellow marijuana companies. It has also formed a joint venture with SAF Opportunities. The first mandate of the entity, which is named SunStream Bancorp, is to form a SPAC.
Article continues below advertisement
Sundial Growers is looking at mergers and acquisitions.
SNDL is also looking at merger and acquisition activity. The marijuana industry should see consolidation as incumbents look at ways to cut losses amid intensifying competition. Tilray and Aphria have announced a merger, which is expected to close soon since Tilray shareholders approved the transaction. Curaleaf also announced the acquisition of EMMAC Life Sciences in March.
Article continues below advertisement
In the earnings call for the fourth quarter of 2020, CEO Zach George said, "I would make the statement that if you look across the space, and you look at where financings, both debt and equity are being struck today. You can quickly reach the conclusion that $1 of cash in this industry is actually worth more than $1 of cash."
SNDL stock isn't a buy right now.
In my view, SNDL isn't a buy based on the core business. However, if you trust in the management to invest the surplus cash efficiently and make each dollar worth more than a dollar as George says, you might find the stock attractive.
Article continues below advertisement
SNDL stock price prediction
The consensus view is also bearish on SNDL stock. Looking at the stock price prediction, SNDL has a median target price of $0.73, which is a 16 percent discount over the current prices, according to the estimates compiled by CNN Business.
Among the six analysts rating the stock, two have given it a hold rating, while four have given the penny marijuana stock a sell rating. Clearly, analysts also don't think that SNDL can be the Buffett of the marijuana industry.