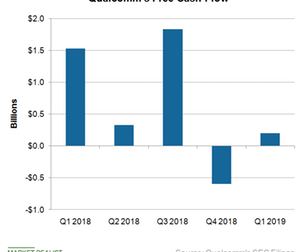 Are Qualcomm's Free Cash Flow and Liquidity Position Worrisome?
By Puja Tayal

Feb. 20 2019, Updated 10:31 a.m. ET
Cash flow
Qualcomm (QCOM) reported GAAP (generally accepted accounting principles) net income of -$4.9 billion in fiscal 2018 as it paid high litigation expenses, fines, termination fees, stock-based compensation, and a one-time tax. These deductions in its GAAP income reduced its FCF (free cash flow) to a multiyear low.
In the first quarter of fiscal 2019, Qualcomm's FCF fell 87% YoY to $204 million, higher than its previous quarter's FCF of -$595 million.
Article continues below advertisement
Qualcomm's cash-debt position
In the first quarter of fiscal 2018, Qualcomm's cash reserves stood at $10.3 billion, and its total debt was $17.5 billion, resulting in a net debt position of $7.2 billion. The company had accumulated $40 billion in cash reserves to acquire NXP Semiconductors (NXPI). When Qualcomm walked away from the acquisition, it pledged to use $30 billion of this accumulated cash to buy back stock.
Qualcomm's buyback program
Qualcomm executed $22 billion of its $30 billion stock buyback program in the fourth quarter of fiscal 2018. It aims to repurchase $5.1 billion worth of stock through a Dutch auction and $16 billion under its ongoing ASR (accelerated share repurchase) program. As of January 30, 2019, the company had completed 40% of its ASRs, which means it had repurchased $6.4 billion worth of its stock at an average repurchase price of ~$61. The ASR program is scheduled to end in early September 2019.
The company's diluted share count reduced to 1.22 billion in the first quarter of fiscal 2019 from 1.41 billion in the previous quarter. Its reduced share count not only improved its EPS but also reduced the amount it spent on dividend payments by 11% sequentially to $750 million in the quarter.
Amid declining smartphone demand and licensing headwinds, Qualcomm could have spent $30 billion in cash on acquisitions to diversify its business beyond the smartphone space, as it had originally planned. However, its management resorted to stock buybacks as Broadcom's (AVGO) hostile takeover bid put it under tremendous pressure from investors to generate shareholder returns and boost its EPS by the end of fiscal 2019.
As Qualcomm's FCF fell, its dividend grew. Over the past 12 months, it's paid out 190% of its FCF in dividends. A steeper decline in the company's FCF could prevent it from increasing its dividend. Next, we'll look at Qualcomm's dividend.