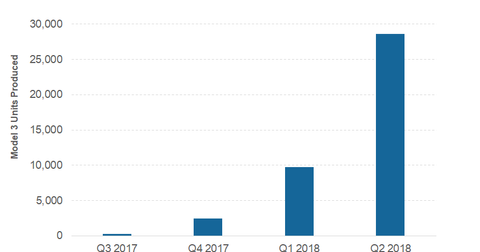 Model 3 Production: Lessons Learned by Tesla in the Last Year
By Jitendra Parashar

Oct. 1 2018, Updated 8:03 a.m. ET
Tesla stock
In the previous part, we saw that Tesla stock (TSLA) is trading ahead of its third-quarter vehicle production (XLY) and deliveries data. TSLA stock has lost 9.2% in the last 52 weeks through September 26. During the same timeframe, General Motors (GM) and Ford (F) have lost 13.6% and 17.3%, respectively.
In contrast, Fiat Chrysler (FCAU) stock has risen 3.6% in the last 52 weeks. Tesla stock posted its all-time high of $389.61 on September 18, 2017, partly due to investors' high expectations related to the company's Model 3 production and deliveries in the third quarter of 2017.
Article continues below advertisement
Production bottlenecks
On October 2, 2017, Tesla revealed that its Model 3 was facing production bottlenecks, resulting in slowed production in the third quarter of 2017. In its October 2, 2017, press release, said that "Model 3 production was less than anticipated due to production bottlenecks."
The company added, "It is important to emphasize that there are no fundamental issues with the Model 3 production or supply chain. We understand what needs to be fixed and we are confident of addressing the manufacturing bottleneck issues in the near-term."
However, TSLA wasn't able to resolve all of its Model 3 production issues in the fourth quarter of 2017. The company's Model 3 production saw significant sequential improvement in the first quarter. However, this trend wasn't enough to regain investors' confidence and answer the criticism Tesla faced for missing its Model 3 production goals.
Key lessons learned
On the Model 3 production front, Tesla (TSLA) saw some relief in the second quarter when it met its Model 3 weekly production goals. To resolve its production bottlenecks, the company made changes in its Model 3 production lines by not relying completely on automation.
While commenting on this topic during Tesla's second-quarter earnings call, Tesla CEO Elon Musk noted, "I think we got maybe a little bit distracted on this first round automating a lot of things that added complexity that didn't necessarily speed up."
Musk added, "As we spent a lot of time debugging a wide range of manufacturing issues that the potential for our existing lines to be able to produce far more cars is much greater than expected."
In the next part, we'll see how Tesla's "delivery logistics hell" could affect its third-quarter results.