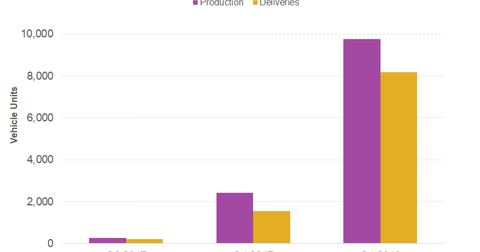 Could Tesla Challenge Mainstream Auto Giants' Self-Driving Cars?
By Jitendra Parashar

Updated
Self-driving cars
So far in this series, we've seen that mainstream automakers General Motors (GM), Fiat Chrysler Automobiles (FCAU), and Ford (F) are competing with each other in the AV (autonomous vehicle) segment. While GM and Ford are developing AV cars with smart mobility and ride-sharing services in mind, Fiat Chrysler is relying on its partner Waymo to provide technology for its self-driving cars.
Now let's take a look at Tesla's (TSLA) position and plans for AV development.
Article continues below advertisement
Tesla's Autopilot
In 2014, Tesla unveiled its Autopilot feature, which made its vehicles capable of auto-steering, auto-lane-changing, auto-parking, and auto-adjustments in speed in response to traffic. Since then, Tesla has made many changes to its Autopilot hardware and software to make it better.
In the second half of 2016, Tesla claimed that all its vehicles then in production had inbuilt hardware capable of full vehicle automation. Early that year, the company also announced its lower-priced electric vehicle, the Model 3, which will be equipped with this hardware.
At that time, many industry experts criticized Tesla for its tall claims about its vehicles' self-driving capability. But was Tesla actually ahead of mainstream automakers (XLY) who couldn't claim their vehicles were capable of full automation? The scenario has changed fairly quickly in recent years. Now, auto giants GM and Ford seem to be racing ahead of Tesla in the autonomous vehicle segment. They have both claimed to be able to mass-produce self-driving cars in the coming years.
Challenges ahead
Tesla has been struggling to meet its Model 3 production goals. In 2017, it reported that it was facing bottlenecks in the production line. That affected investor confidence in Tesla and forced the company to divert the majority of its resources to resolve its Model 3 production issues.
Tesla says it's working on AI hardware that could give it an edge over the competition in the autonomous vehicle segment. Its chip, combined with real-time data collected from Autopilot of its on-road vehicles, could help Tesla challenge mainstream automakers' self-driving cars in the future.