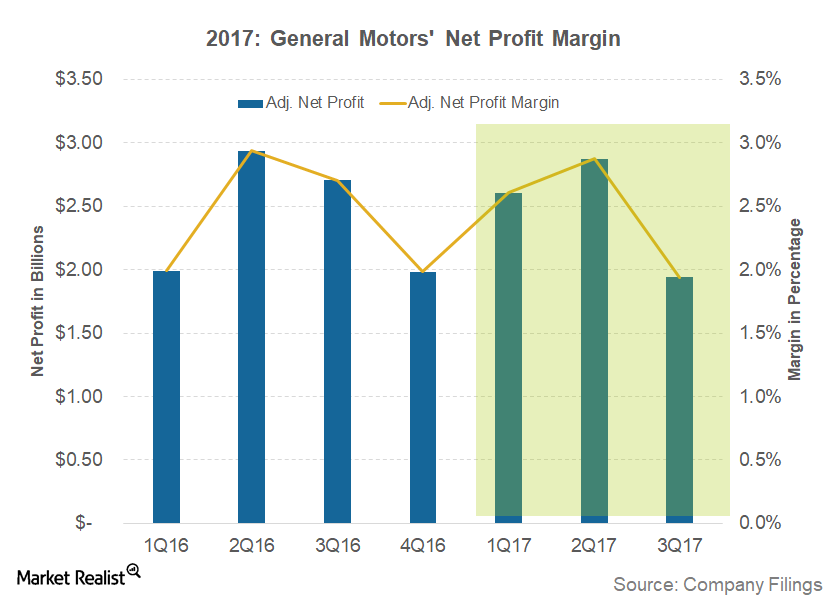 Why GM's Profit Margins Led Its Peers in 2017
GM margins
General Motors (GM), the largest US automaker, has been able to demonstrate significant improvements in its margins in the last few years. In terms of profitability, the company has showcased far better positive growth than other auto companies (XLY) such as Ford (F), Fiat Chrysler (FCAU), and HMC (HMC). Let's take a closer look.
Article continues below advertisement
Profit margins in 2017
In 2017, GM reported record 1Q adjusted EBIT (earnings before interest and taxes) margin of 8.2%, much higher than 7.1% in 1Q16. With this, the company's adjusted net profit margin for the quarter also rose to 6.3%, much higher than 5.3% in the corresponding quarter of the previous year.
In 2Q17, the company's adjusted EBIT margin stood at 10.0% against 10.3% in 2Q16. Nevertheless, the company reported solid adjusted net profit margins of 7.8% compared to 6.9% in 2Q16.
However, GM's adjusted EBIT margin narrowed to 7.5% in 3Q17 from 9.4% in 3Q16. Likewise, the company's adjusted net profit margin also fell to 5.8% from 6.3% in 3Q16. General Motors attributed this drop in its 3Q profit margins to lower sales volume and high competition in its North America Small Car segment.
Peer comparison
Despite a drop in GM's profit margins in the most recent reported quarter, its adjusted net profit margin of 5.8% was still better than Ford's 4.6%, FCAU's 3.5%, and Honda's 4.6%.
General Motors' consistent efforts by focusing on profitable segments has helped it maintain solid profitability at a time when US auto sales are softening.
Continue to the next part where we'll see how GM Financial performed.