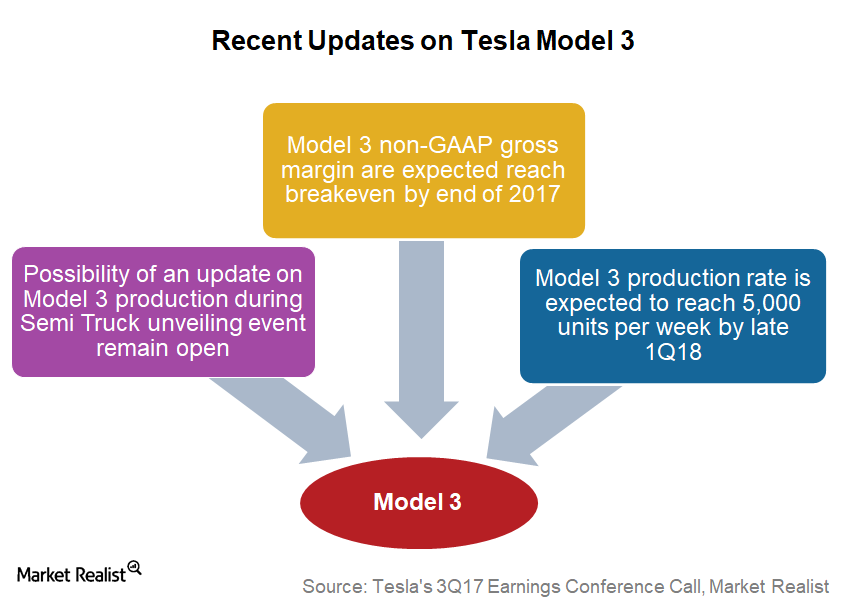 Will Tesla Give Update on Model 3 during Semi Truck Unveiling?
Tesla Model 3
Tesla Motors (TSLA) has come a long way since it began producing its first electric sports car, the Tesla Roadster, in 2008. The company continued to gain huge popularity among auto buyers with its premium electric sedan Model S and its SUV (sports utility vehicle) Model X. The company's vision to accelerate sustainable transport looked quite promising when it launched its first mass-market electric car Model 3 in March 2016.
Article continues below advertisement
Model 3 received an overwhelming response from consumers and exceeded 325,000 reservations within a week of its launch. However, investors' and consumers' high expectations were dashed when Tesla gave an update in 3Q17 that its Model 3 production was well below expectations due to some production bottlenecks.
Delays: Semi truck and Model 3
Tesla's semi truck event was initially expected to take place in September 2017. But in September, Tesla's CEO (chief executive officer) Elon Musk tweeted that October 26, 2017, would be the tentative semi truck unveiling date. But after the dismal Model 3 production figures in 3Q17, Tesla decided to again reschedule the semi truck unveiling event to November 16, 2017.
Musk justified the delay because the company needed to focus on fixing its Model 3 production bottlenecks. Considering how important Model 3 is for Tesla, the delay in the semi truck event could have made sense.
Article continues below advertisement
Are investors still focusing on Model 3?
On November 1, 2017, during the company's 3Q17 earnings conference call, Musk suggested that it would be difficult to say precisely when the Model 3 issues would be fixed. During the call, Tesla also announced that it's postponing its plan to produce 500,000 vehicle units per year by one quarter. Earlier, the company planned to produce 500,000 vehicle units per year beginning in 2018. The company now plans to achieve that high-volume production rate starting in 2Q18.
Tesla's annual vehicle production rate is still just a fraction of what mainstream automakers (XLY) General Motors (GM), Ford (F), and Fiat Chrysler (FCAU) produce.
No doubt there is an enthusiasm among investors and analysts about Tesla's electric semi truck. But we'll have to wait and see if the company can regain investor confidence with ongoing concerns about the Model 3 production. Perhaps investors will also be looking for a Model 3 update during the semi truck unveiling event on November 16, 2017.