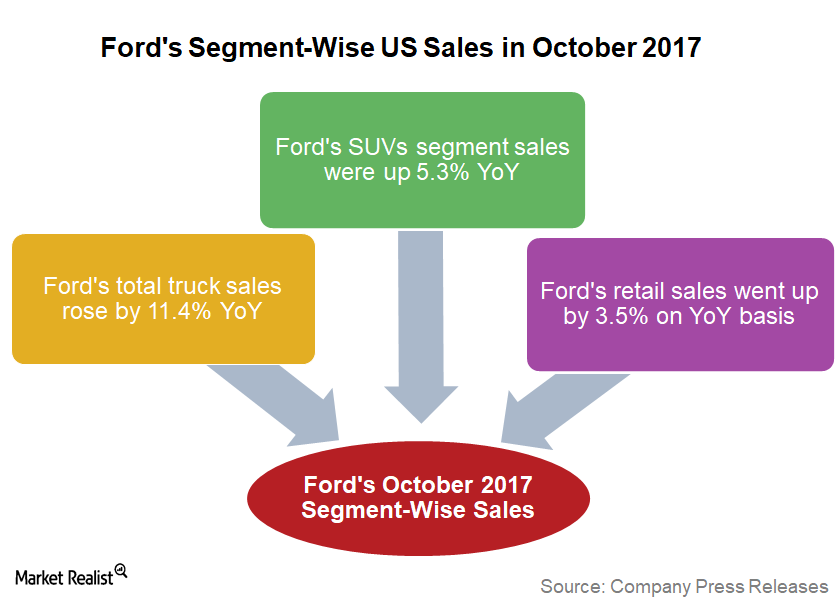 How Ford's October Sales Could Improve Its Profitability
Stronger truck and SUV sales in October
In October 2017, Ford Motor (F) sold about 93,248 trucks, with a significant rise of about 11.4% YoY (year-over-year). Similarly, the company's SUV (sports utility vehicles) segment showcased solid growth of ~5.3% to 63,339 units in October 2017 from 60,166 units sold in October 2016, reflecting optimism. In September 2017, Ford reported its highest truck sales in 2017, of 103,625 units.
Article continues below advertisement
Strengthening US retail sales
Last month, Ford's US sales to retail customers stood at 148,105 units, a ~3.5% rise YoY. In September, the company's US retail sales rose 4.4% YoY to 164,067 units.
Positive indicators for 4Q17 profitability
As noted earlier in this series, trucks and sports utility vehicles tend to yield larger profit margins for auto manufacturers than do small cars. Therefore, higher US truck and SUV sales in October were a positive indicator for Ford's 4Q17 profit margins. Similarly, a rise in October retail sales could provide tailwinds to Ford's 4Q17 profitability, as retail sales generate better profit margins than sales to rental car companies.
US demand for heavyweight vehicles such as SUVs and trucks has risen in the last few years. Mainstream auto giants (IYK) Ford, General Motors (GM), Toyota Motor (TM), and Fiat Chrysler Automobiles (FCAU) have benefited from this positive sales trend. Continue to the next part, where we'll compare GM's October sales data with Ford's.