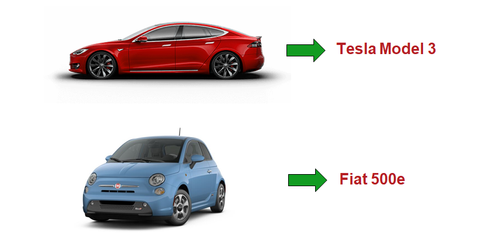 How Tesla Could Succeed Where Fiat Chrysler Failed
By Jitendra Parashar

Oct. 11 2017, Updated 8:10 a.m. ET
Marchionne's recent comments on EVs                               
According to a recent report by The Street, Fiat Chrysler (FCAU) CEO Sergio Marchionne said, "We still don't have a viable economic model for delivering an electric car." He also added that Tesla (TSLA) CEO Elon Musk had "done a phenomenal job of marketing Telsa," but Marchionne still remains doubtful about the "economic viability of the model" pitched by Musk.
This was not the first time that Marchionne has raised questions about the viability and the future potential of all-electric vehicles (or EVs). Let's take a closer look.
About a year ago, Marchionne in his interview with CAR Magazine said, "There is nothing Tesla do that we cannot also do." He even compared Tesla's stock rally after its Model 3 unveiling to the Internet bubble.
Article continues below advertisement
Fiat Chrysler's failure in the EV segment
Fiat Chrysler, just like many other legacy automakers, has considered manufacturing and selling EVs an obligation to meet regulatory obligations rather than a business opportunity.
For example, California passed zero-emissions regulations in 1990. This regulation mandated that vehicles with zero exhaust emissions must make up 2% of an automaker's total units sold starting in 1998.
In 2013, Fiat Chrysler began deliveries of its all-electric Fiat 500e car model, which was made available only in Oregon and California in the US. In 2014, Reuters reported Marchionne as saying "I hope you don't buy it because every time I sell one it costs me $14,000."
Case for Tesla
It's true that Elon Musk has marketed Tesla well. But his marketing skills would have never been this successful if he were selling the same EVs as other automakers were selling. Musk was successful at least in part because he tried to disprove myths about limitations of EVs. Tesla cars combine high driving range and advanced features like Autopilot with an attractive design.
It's very difficult for automakers to protect their profitability with EVs at the moment. A big portion of profitability from EVs is eaten up by expensive battery packs. However, to deal with this, Tesla didn't wait until cheaper battery packs became available. Instead, TSLA decided to build the world's largest lithium-ion battery factory in Nevada named the Gigafactory. Gigactory is expected to reduce battery pack costs by 30%.
So far, Tesla has successfully demonstrated the true potential of EVs and has attracted other automakers' attention to the EV segment. Mainstream US automakers (IYK) General Motors (GM) and Ford (F) have already revealed intentions to exponentially expand their EV portfolio in the upcoming few years. However, Tesla continues to burn cash. According to Wall Street analysts' consensus, Tesla isn't expected to report its next profitable quarter until 4Q18.
Next, we'll see how Tesla stock traded last week.