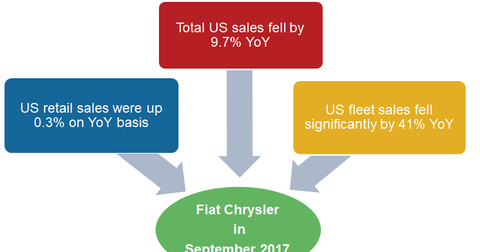 Fiat Chrysler Reported Fall in US Sales for 13th Month in a Row
By Jitendra Parashar

Updated
Fiat Chrysler's US sales in September 2017
In September 2017, Fiat Chrysler Automobiles' (FCAU) total US sales dropped to 174,266 vehicles, which was 9.7% lower than the company's US sales of 192,883 vehicle units in the corresponding month of 2016. Notably, this was the 13th consecutive month that FCAU's total US sales were down. Let's take a look at some key factors in the company's declining sales.
Article continues below advertisement
US retail sales rose in September
Fiat Chrysler's September 2017 retail sales were nearly flat at 146,904 vehicle units with a minor rise of about 0.3% YoY (year-over-year). Earlier in August, the company's US retail sales fell ~7% YoY. Notably, Fiat Chrysler's September retail sales were about 84.3% of its total US sales.
Massive drop in fleet sales continues
In September 2017, Fiat Chrysler's US fleet sales fell significantly by about 41% to just 27,362 vehicle units. These were also much lower than its August fleet sales of 35,654 vehicle units.
Interestingly, the company has been reducing its daily rental segment US sales for the last few quarters just like General Motors (GM) to improve profitability. This is because daily rental segment sales typically result in lower profit margins for automakers (XLY) as compared to the profitability from retail sales. Due to this fleet sales cut strategy, Fiat Chrysler has been losing its US market share to peers like GM, Ford (F), and Toyota (TM).
A massive drop in its fleet sales caused a 10% drop in FCAU's overall US sales last month. Read on to the next part to learn how Fiat Chrysler's car and truck segment sales were in September 2017.