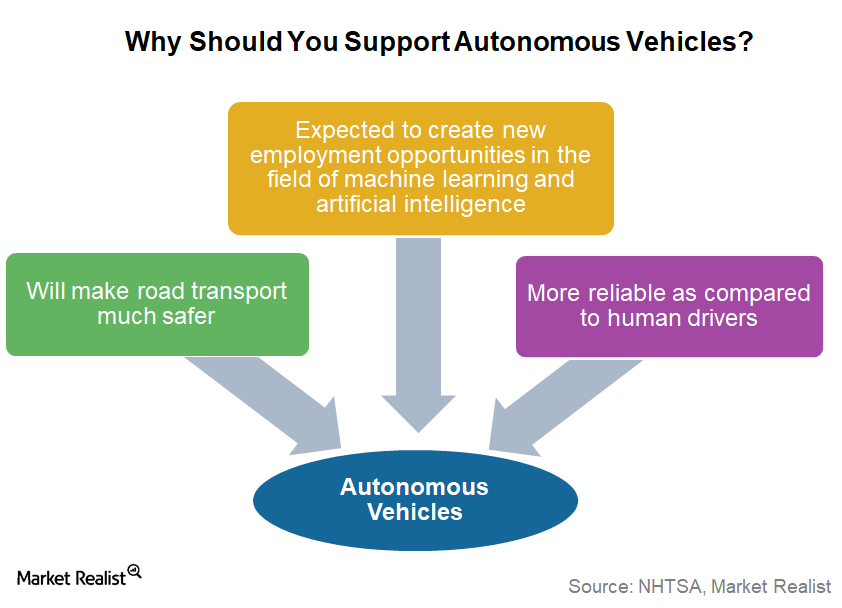 The Case for Autonomous Vehicles
Fear about autonomous vehicles
In the previous part of this series, we discussed how data from various sources suggest that autonomous vehicles will make travel much safer and a lot more convenient. Imagine if you could just sit in a self-driving vehicle and use your time for something other than driving the vehicle.
But to embrace this idea, we need to let go of notions we may have from science fiction movies that intelligent machines are evil. In addition, many fear that autonomous vehicles might lead to a terrible unemployment situation.
Article continues below advertisement
Tackling the unemployment issue
There's no denying the fact that fully autonomous vehicles won't require any human input. Thus, driving jobs could dwindle. On the brighter side, the adoption of autonomous vehicles could open doors to many new employment avenues that don't even exist today. Moreover, we could see more employment opportunities arising in the field of manufacturing, data analytics, and machine learning.
According to a study by Intel (INTL) and Strategy Analytics, autonomous vehicles are likely to open doors to new economic opportunities. The report suggests we'll see "an explosive economic trajectory growing from $800 billion in 2035 to $7 trillion by 2050," when the report predicts autonomous vehicles will be mainstream.
Many experts believe that the adoption of autonomous vehicles won't happen overnight. Drivers who fear losing jobs will have plenty of time to make the shift. Therefore, the adoption of autonomous vehicles might not be as disastrous for jobs as many politicians make it sound.
Look to the past for answers
An online report published by recode.net in May 2017 quotes Marc Andreessen, the popular American entrepreneur, as saying, "It's a recurring panic. This happens every 25 or 50 years, people get all amped up about 'machines are going to take all the jobs,' and it never happens."
In fact, opposing autonomous vehicles doesn't make sense, as we live in a world where we use and enjoy technologies that took away jobs at some point in the past. For example, the invention of computers took away millions of jobs in the past, but today we also know that it created millions of new jobs as well.
Automakers (IYK) like Ford (F), General Motors (GM), and Fiat Chrysler (FCAU) are racing to develop autonomous vehicles that could be mass-produced in the near future.