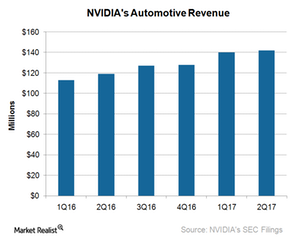 NVIDIA Prepares for the Next Big Growth from Autonomous Vehicles
By Puja Tayal

Updated
NVIDIA's automotive revenue 
NVIDIA (NVDA) is now dominating the development in autonomous vehicles with the most advanced technology, DRIVE PX 2. It has partnered with over 225 auto and truck makers, Tier-1 suppliers, high-definition mapping companies, startups, and research institutions in their autonomous driving efforts.
NVIDIA's automotive revenues have been growing steadily over the past few quarters, driven by the sales of its premium infotainment systems. Automotive revenues grew 1% sequentially and 19% YoY (year over year) to $142 million in fiscal 2Q18. Notably, automotive is a stable market because there are long-term supply contracts.
As the design win process is lengthy and tedious, automakers do not change suppliers frequently. This makes it difficult to transition to new technology. NVIDIA has charted a roadmap toward Level-5 autonomous driving.
Article continues below advertisement
NVIDIA' roadmap for autonomous vehicles: 2017–2018
In its fiscal 2Q18 earnings call, NVIDIA CEO (chief executive officer) Jen-Hsun Huang stated that the company would see several development partnerships in calendar 2017 and 2018. These partnerships range from NRE (non-recurring engineering) projects to system development to purchase of DGX AI supercomputers.
NRE projects involve all steps from research to design to development to testing to commercial launch to product enhancements. NVIDIA is in an NRE partnership with Audi to develop its A8 Level-3 autonomous car for a launch in 2019.
2018–2019
In calendar 2018, NVIDIA will prototype or beta-test robot taxis on the road, starting with six or seven test projects around the world. In 2019, it plans to bring these robot taxis into real commercial services with Level-4 or Level-5 autonomy.
Article continues below advertisement
2020–2021
In 2020 and 2021, NVIDIA expects branded carmakers to bring fully autonomous driverless cars to the market. Volvo, Autoliv, and Toyota Motor (TM) will likely use NVIDIA DRIVE PX for their autonomous cars. Baidu (BIDU) would likely use NVIDIA DRIVE PX for its Project Apollo open source self-driving platform for the Chinese market, and Tesla (TSLA) has already deployed DRIVE PX 2 platform, which offers Level-3 autonomy.
At the Citi Global Technology Conference, NVIDIA's CFO (chief financial officer) Colette Kress stated that the company currently supplies about $50–$100 content per car for premium infotainment systems. The Level-3 autonomy would probably double this content. As we move to Level-4 or Level-5 autonomy in a robot-taxi, NVIDIA's content per vehicle would likely cross $1,000.
There's little doubt that the company could thus dominate this space in calendar 2020. At that time, its automotive revenue would grow threefold or fourfold.