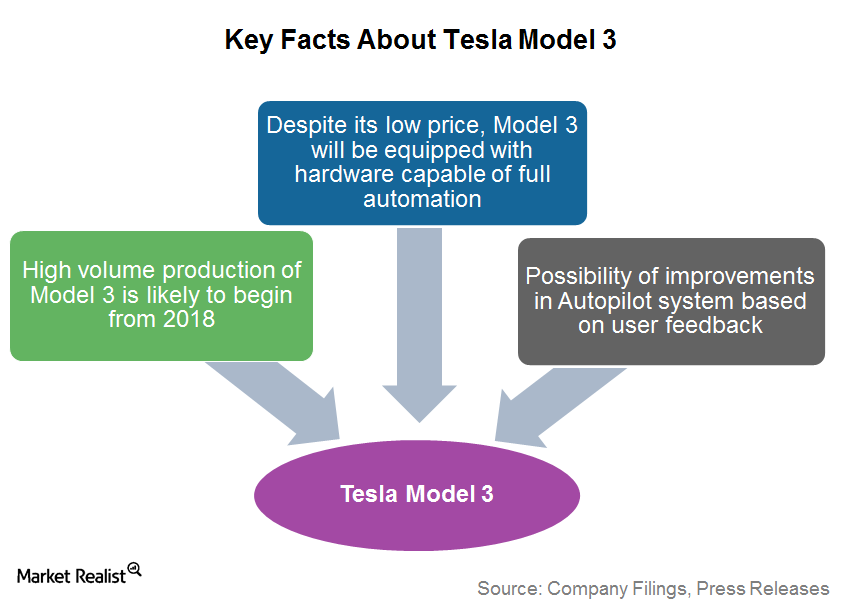 Could Tesla's Model 3 Be a Game-Changer?
By Jitendra Parashar

Dec. 4 2020, Updated 10:53 a.m. ET
Tesla 
Tesla (TSLA) is expected to start producing its much awaited mass-market electric vehicle—Model 3. Tesla Model 3 will likely have built-in hardware capable of full automation. It could be a game-changer for the self-driving car industry.
In this part, we'll discuss why Tesla's Model 3 could stand out in the autonomous vehicle race.
Article continues below advertisement
Autopilot upgraded
Tesla unveiled the Autopilot system in late 2014. The company started using cameras, radar, and ultrasonic sensors for vehicle automation. According to the company, Tesla vehicles are primarily capable of Autosteer, change lanes, Autopark, and adjust speed in response to traffic.
In September 2016, Tesla announced a software upgrade to improve its Autopilot system. Before the upgrade, Tesla Autopilot used high-definition cameras as primary sensors and onboard radar as a supplementary sensor. The upgrade enhanced the role of onboard radar in Tesla vehicles for automation rather than depending on built-in cameras for confirmation.
Autopilot's advanced features gave Tesla an edge over legacy automakers (FXD) including General Motors (GM), Ford (F), and Fiat Chrysler (FCAU).
Model 3 and vehicle automation
Today, Tesla has the advantage of being the first automaker to offer innovative vehicle automation functions in its vehicles. Currently, Tesla's primary focus is to constantly improve the existing beta version of its Autopilot function.
Being a low-cost car model, Tesla Model 3 will likely expand the reach of Tesla's autonomous vehicles in the market. While other automakers' autonomous vehicles are still in the testing phase, Tesla plans to mass-produce its Model 3, equipped with full vehicle automation hardware, starting in 2018. Therefore, Tesla's Model 3 could be a game-changer for the self-driving car industry.
In the next part, we'll discuss how Uber is trying to change the way that we use cabs.