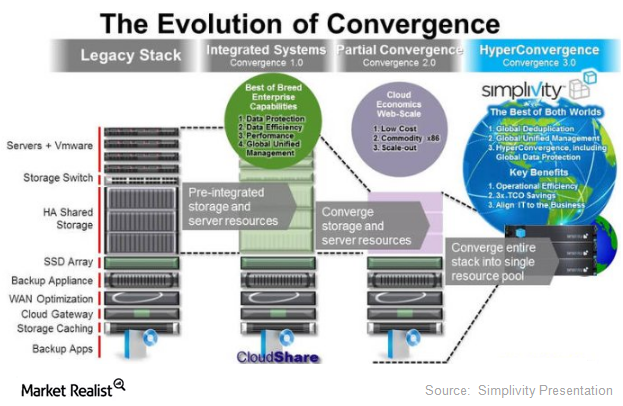 Why Hewlett-Packard Enterprise Acquired SimpliVity
HPE shells out $650 million to acquire SimpliVity
Earlier in the series, we discussed VMware's (VMW) focus on the HCI (hyper-converged infrastructure) space. We also discussed the benefits offered by HCI that contribute to its popularity.
VMware's focus on HCI technology could get a boost due to its now being part of Dell technologies, as it should have greater access to Dell's resources.
Sensing this growing competition, on January 18, 2017, Hewlett-Packard Enterprise (HPE) announced its acquisition of SimpliVity. HPE made this cash acquisition for ~$650 million. SimpliVity's acquisition is expected to close in 2Q17.
SimpliVity provides SDDC (software-defined data center) architecture and HCI technology. Though SimpliVity was founded in 2009, it began product shipments in 2012.
Article continues below advertisement
HPE targets a bigger share in the HCI space
Simplivity's SDDC and peripheral component interconnect express (or PCIe) accelerator card have been integrated into the Cisco (CSCO) UCS (unified computing system) hardware platform. SimpliVity software can run on Amazon's (AMZN) AWS (Amazon Web Services) platform.
According to Pitchbook, SimpliVity has raised $276 million in funding to date. According to a Business Insider article published in early 2015, SimpliVity's CEO, Doron Kempel, said that the company had a valuation of "more than $US1 billion."
If that's the case, Hewlett-Packard has managed to acquire a top-rated startup in the HCI space at a major discount.
Next, we'll see how SimpliVity's acquisition could provide a much-needed push to HPE's offerings in the HCI space.