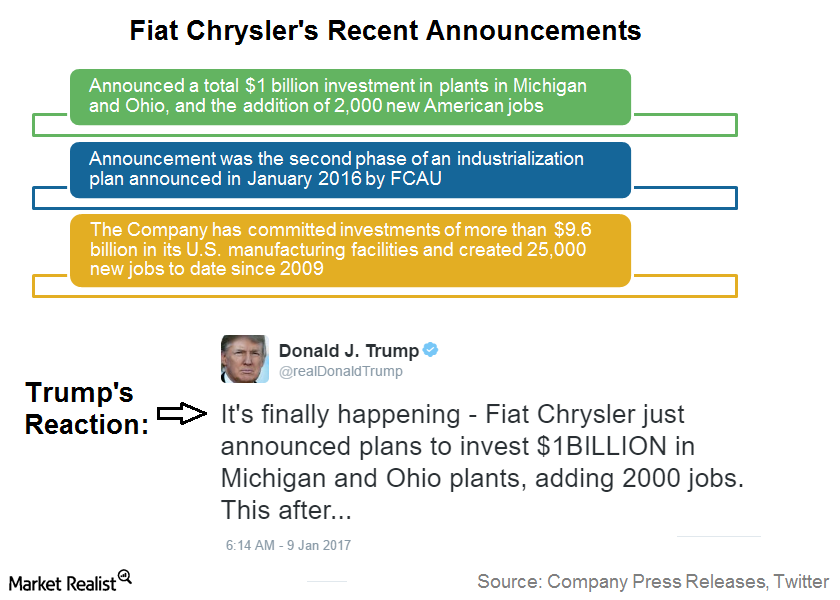 Trump Shouldn't Take Credit for Fiat Chrysler's Recent Move
Fiat Chrysler 
On January 8, 2017, Fiat Chrysler Automobiles (FCAU) announced that it will be investing about $1 billion in its plants in Michigan and Ohio. The company also highlighted that these investments will create about 2,000 new jobs in the US. The company's statement comes at a time when Trump is hammering other automakers for their investments in Mexico. However, we shouldn't consider Fiat Chrysler's recent move to invest in the US plants as a Trump effect. First, let's take a look at how Donald Trump tried to take the credit for Fiat Chrysler's move.
Article continues below advertisement
Trump's reaction
On January 9, 2017, Trump tweeted that "It's finally happening – Fiat Chrysler just announced plans to invest $1BILLION in Michigan and Ohio plants, adding 2000 jobs. This after…"
By initiating his tweet with "it's finally happening" Trump might mean that it's finally happening due to his efforts in this direction. However, it could be far from the truth—like it was in Ford's (F) case, as we discussed in the previous part of this series.
Why Trump shouldn't take credit
In the press release, Fiat Chrysler mentioned that the investment plans are "the second phase of an industrialization plan announced in January 2016." Under this plan, the company is continuously making efforts to fully utilize its US plants' capacity to produce more profitable heavyweight vehicles.
Heavyweight vehicle sales in the US such as utility vehicles and trucks have risen significantly in the last few years. The sales trend benefited mainstream automakers (FXD) such as Ford, General Motors (GM), Fiat Chrysler, and Toyota Motor (TM).
In the next part of this series, we'll conclude our discussion about Trump's views on automakers and how it could impact these companies in 2017.