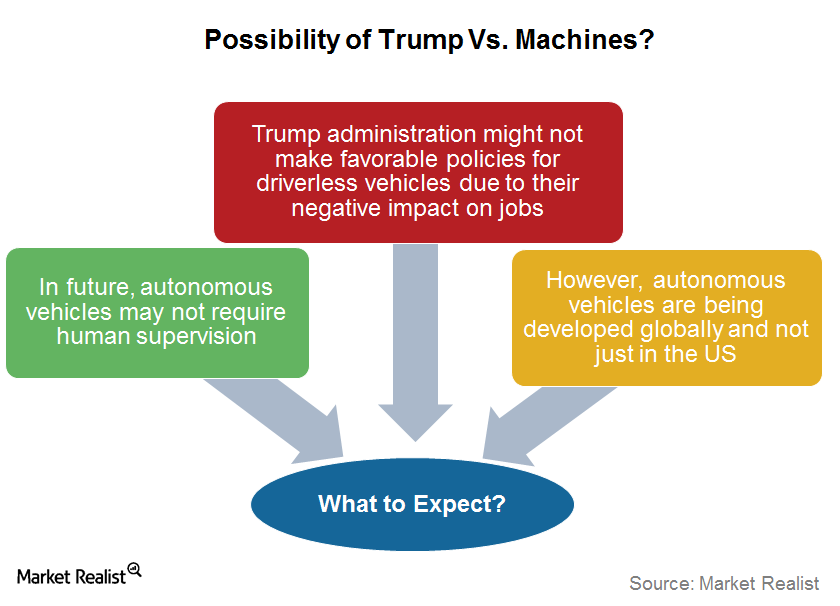 Does an Era of Trump versus Machines Start Now?
By Jitendra Parashar

Nov. 20 2020, Updated 3:43 p.m. ET
Machines taking over jobs
For the last few years, the auto industry witnessed many changes. The industry's future depends on technology. Almost all of the mainstream auto giants are racing to develop technology for autonomous vehicles. Ford (F) already promised to start mass producing fully autonomous vehicles for ridesharing services by 2021. Other automakers including General Motors (GM), Fiat Chrysler (FCAU), and Toyota (TM) haven't given a specific timeline, but they're focusing on driverless vehicle development.
This race isn't just limited to developing driverless cars. The technology is also being tested to make driverless trucks.
Article continues below advertisement
Trump versus machines
We might not see the immediate impact of this technology on professional drivers' jobs for two primary reasons. First, we don't have fully autonomous vehicles that don't require any supervision by a human sitting in the driver's seat. Second, existing laws and regulations in the US don't allow fully autonomous vehicles to run on public roads without supervision.
However, we can't deny the fact that such fully autonomous cars and truck might not require human supervision in the future. The technology might take a toll on millions of truck and taxi drivers' jobs across the US.
With his clear focus on job creation, Donald Trump might not support any technology that will lead to a loss of jobs. Therefore, we have enough reasons to believe that autonomous vehicle development might get tougher after Trump becomes the president. It could be the beginning of an era of Trump versus machines.
Challenges for Trump
If we look at the companies involved in driverless vehicle development today, they aren't just limited to the US. Tech and auto companies (XLY) across the world are working on them. US tech giants Google (GOOGL) and Apple (AAPL) have already started collaborating with ridesharing or auto companies across the globe. Therefore, it won't be in Trump's hand to restrict the US companies from participating in the global race, especially when he wants the country to remain competitive on a global scale.
Earlier this year, Google collaborated with Fiat Chrysler to speed up autonomous vehicle development. Apple's $1 billion investment in Didi, a Chinese ridesharing company, could indicate that it's interested in developing driverless ridesharing services.