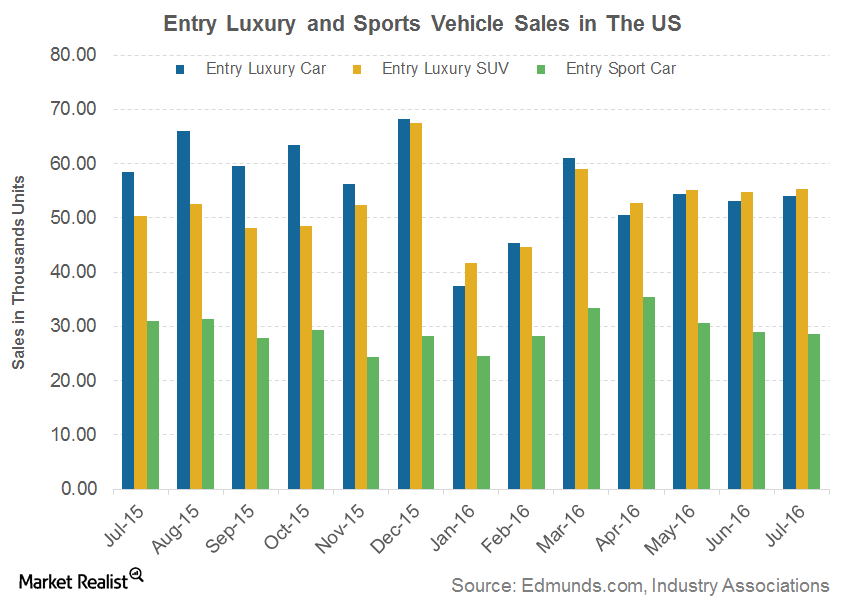 What Do US Luxury Vehicle Sales in July Tell Us?
By Jitendra Parashar

Dec. 4 2020, Updated 10:53 a.m. ET
Entry-level luxury vehicles
In July 2016, the sales volume of luxury cars in the US dropped by 7.7% YoY (year-over-year) to 53,974 units. For the same period, the sales of entry-level luxury SUVs (sport-utility vehicles) increased by 9.9% to 55,331 units, whereas the sales of entry-level sports cars dropped by 8% to 28,585 units.
The top car models in the entry-level luxury and sports vehicle segments were as follows:
BMW 3 Series
Mercedes-Benz C-Class
Lexus RX
Ford (F) Mustang
Chevrolet Camaro
Dodge Challenger
Note that Lexus is a luxury car brand of Toyota (TM), while Chevrolet belongs to General Motors (GM), and Dodge belongs to Fiat Chrysler (FCAU).
Article continues below advertisement
Mid-range luxury vehicles
A total of 13,287 mid-range luxury cars were sold in the US in July 2016, representing a 1.2% YoY decline. For the same period, the sales of mid-range luxury SUVs and sports cars also dropped by 12.9% to 21,951 units and by 7.8% to 3,592 units, respectively.
In this category, Mercedes-Benz E-Class, BMW 5 Series, Acura MDX, and Chevrolet Corvette were among the bestselling vehicle models.
Premium luxury vehicles
The sales of premium luxury cars in July 2016 fell sharply by 21.5% YoY to 4,505 units. At the same time, premium luxury SUVs and sports cars witnessed an increase of 5.4% YoY to 5,548 units and 7.2% YoY to 1,914 units respectively.
In the premium luxury vehicle segment, Mercedes-Benz S-Class, BMW 7 Series, Cadillac Escalade, and Porsche 911/918 were among the bestselling vehicle models.
For automakers (VCR), the margins and profitability from luxury vehicles tend to be higher than they are for mass-market vehicles. Therefore, a negative change in the luxury vehicle sales is likely to hurt automakers' profitability.
Now let's discuss the July sales data of electric vehicles in the US.