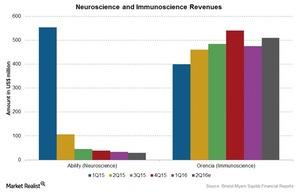 Bristol-Myers Squibb's 2Q16 Estimates: Other Segments
By Mike Benson

Updated
Neuroscience and immuno-science segments
Bristol-Myers Squibb's (BMY) neuroscience and immuno-science segments have much lower sales than other segments. The neuroscience segment is represented by the drug Abilify, while the immuno-science segment is represented by the drug Orencia.
Article continues below advertisement
Abilify
Abilify is an antipsychotic agent used in the treatment of schizophrenia and major depressive disorders and is a part of the company's alliance with Otsuka Pharmaceutical Co.
Following the loss of exclusivity in the US markets, Abilify revenues are expected to decline to $30 million for 2Q16 as compared to $107 million for 2Q15. In 2014, the company had lost exclusivity for Abilify in the European markets, which have a much lower negative impact on the overall sales of Abilify. Abilify is a more profitable product and is therefore expected to impact the company's gross margin for 2Q16 due to its lower sales.
Other drugs for schizophrenia include AstraZeneca's (AZN) Seroquel XR, Johnson & Johnson's (JNJ) Invega Sustenna, and Sunovion Pharmaceuticals' (SEPR) Latuda.
Orencia
Orencia is a fusion protein used in rheumatoid arthritis and related indications. Orencia's revenues are expected to increase to ~$510 million for 2Q16, following higher demand for the drug.
Other drugs for the treatment of rheumatoid arthritis include AbbVie's (ABBV) Humira, Amgen's (AMGN) Enbrel, and Pfizer's (PFE) Celebrex. To diversify risk, you can consider the iShares U.S. Healthcare ETF (IYH), which holds 4.4% of its total assets in Bristol-Myers Squibb.