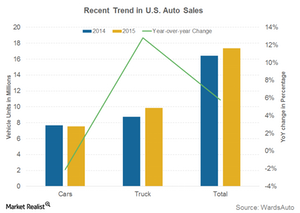 How Ford Can Benefit from the Recent Trend in the US Auto Market
By Jitendra Parashar

Updated
US auto demand
Auto demand is considered to be one of the leading indicators for the economy, but we mustn't forget the fact that the auto industry (VCR) is highly cyclical in nature. Any economic data that reflect increased disposable income in any significant market should also positively impact auto sales.
In this article, we'll take a look at some of the indicators that reflect optimism for automakers. We'll also see how this recent trend in the US auto market could prove to be an opportunity for Ford Motor Company (F).
Article continues below advertisement
Recent trend in US auto market
US auto sales data suggest that the demand for utility vehicles (or UVs) and trucks has grown positively in the last year. Meanwhile, the demand for small cars in the United States was marginally down in 2015 from a year earlier. What are the two key drivers of this positive growth in UV and truck demand in the United States?
First, significant weakness in crude oil prices has been supportive of auto demand in the last couple of years. It's important to note that crude oil prices have fallen more than 70% since June 2014. Still, rising US inventories are negatively affecting crude oil prices. Cheaper gasoline encourages more retail consumers to purchase UVs instead of small cars. This is because UVs are generally less fuel efficient than small cars.
Second, the majority of demand for pickup trucks comes from the housing construction industry. US new house sales are still improving and are near the highs of 2008–2009, with no major signs of near-term weakness seen yet.
How can Ford benefit from this trend?
This trend can be seen as a positive indication for automakers that make the majority of their revenues from the United States. This includes the Ford Motor Company, because it has a strong hold on the pickup truck segment in the United States.
As noted earlier in this series, the F-series has been the best-selling pickup truck line in the United States for more than three decades now. Therefore, this change in auto demand can be seen as a great opportunity for Ford.
In addition, for more than two years, Ford has been ramping up its manufacturing plants in order to produce a more fuel-efficient version of its legacy F-150 pickup truck. In 2015, the company was able to deliver this improved version of the F-150 with a light aluminum body. This should certainly provide Ford with a competitive advantage over its US rival General Motors (GM).
Other mainstream automakers such as Toyota (TM) and Fiat Chrysler Automobiles (FCAU) are also understanding the value of this positive auto demand pattern. These companies are also planning to launch more pickup truck and UV models in the US market in the coming years.
Continue to the next article to find out how investors can value Ford Motor Company.