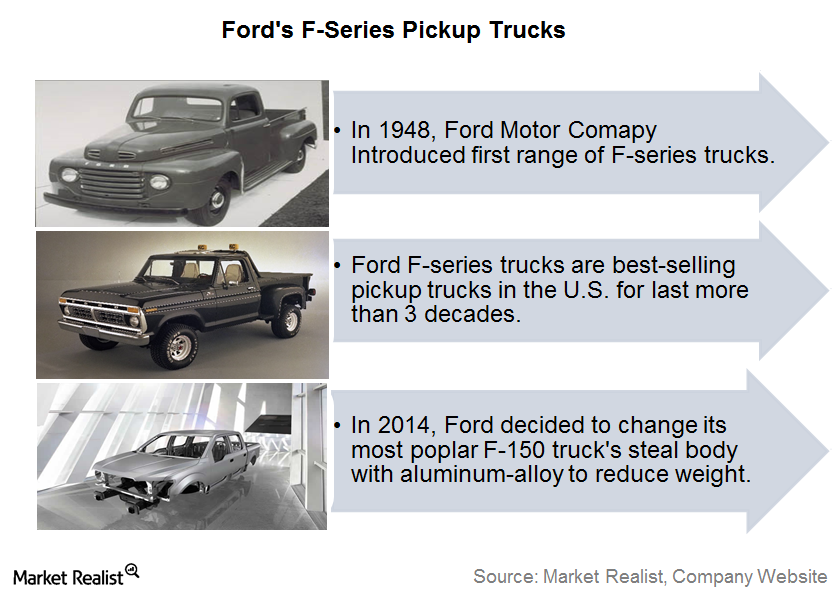 Why F-Series Trucks Are Important to Ford's Success Story
By Jitendra Parashar

Mar. 4 2016, Updated 4:06 p.m. ET
Ford F-Series trucks
Previously in this series, we talked about important geographical markets and the trend in the market share of Ford Motor Company (F).
Now, let's look at the key strengths of the company's vehicle lineup. We'll particularly focus on the historic significance of the F-series and how it has benefited the company.
Article continues below advertisement
History of F-series trucks
After World War II, Ford decided to build trucks using its purpose-built truck platform instead of its previously used car platforms. In 1948, the company launched its first line of F-series trucks.
Initially, F-series trucks were available in eight designs and weight ratings. The weight capacity was between half a ton and three tons. As you can see in the chart above, Ford kept bringing changes and improvements to its truck design and technology with time.
Best-selling trucks in the United States
Among all the vehicles offered by Ford, the F-series has a special place in the auto market. In 2015, nearly 780,000 F-series pickup vehicles were sold, a year-over-year rise of 3.5%.
The F-150 is the heavy duty, full-size pickup truck in the series. The F-150 line of trucks has been the best-selling vehicle in the United States for more than three decades now. This shows the company's strength in maintaining its leadership in the US auto market (XLY).
New version of F-150
Recently, Ford has made a significant change in its F-150 pickup truck line. The company is now producing a new aluminum body version of the F-150. This new version provides an improved power-to-weight ratio over previous generations. The aluminum body results in better fuel efficiency and faster acceleration. With this change, the costs involved in producing the truck will also be lower.
The significance of these pickup trucks is also immense for Ford, as pickup trucks typically yield higher profitability than the small car segment.
However, Ford is not the only player in the pickup truck segment. Other automakers such as General Motors (GM), Fiat Chrysler Automobiles (FCAU), and Toyota (TM) also pose competition to the F-150 series with the Chevrolet Silverado, the Ram, and the Toyota Tundra, respectively.
Continue to the next article for a look at Ford Motor Company's margins.