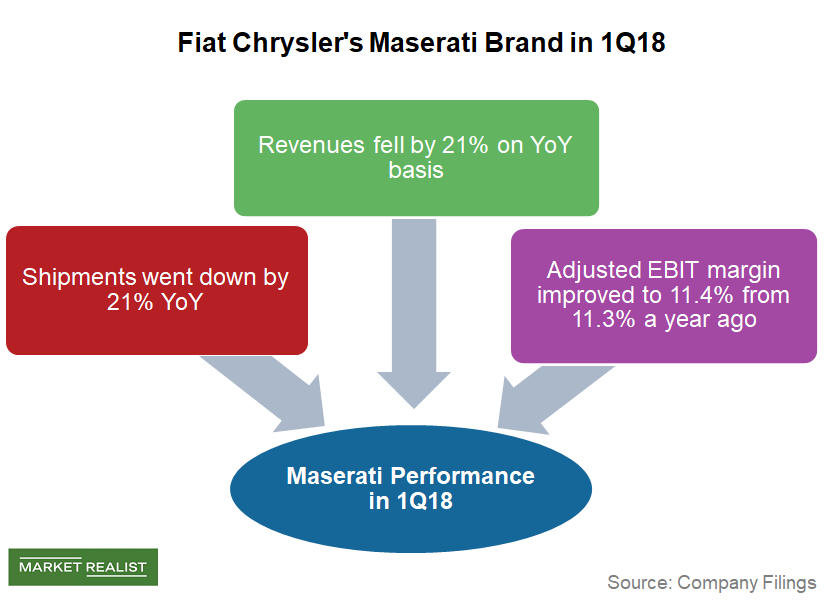 Why Sergio Marchionne Isn't Happy with Maserati Levante Launch
By Jitendra Parashar

Oct. 11 2020, Updated 11:57 a.m. ET
Fiat Chrysler's luxury vehicles
In 2015, Fiat Chrysler (FCAU) decided to spin off the Italian luxury car brand Ferrari (RACE) as a separate company. After Ferrari's separation from Fiat Chrysler, Maserati was one of the key luxury vehicle brands left in FCAU's product portfolio. Let's take a look at Maserati brand's recent performance and find out why Fiat Chrysler CEO Sergio Marchionne is not happy with the recent launch of Maserati Levante.
Article continues below advertisement
Maserati's 1Q18 revenues fell
In 1Q18, Fiat Chrysler shipped ~9,300 units of Maserati brand cars, 21% lower than the ~11,900 units in 1Q17. With this, the company's revenues from the luxury car brand fell by about 21% YoY to 754 million euros, or ~$899 million. This decrease in revenues was primarily driven by lower demand for the new variant of Maserati Levante and currency headwinds. In 4Q17, Maserati's shipments also fell 15% YoY (year-over-year).
During its 1Q18 earnings conference call, Sergio Marchionne called Levante "potentially a phenomenally successful product" and mentioned that it "was poorly handled on launch." On the positive side, Marchionne expects that the sales of Maserati brand vehicles should recover in the coming quarters.
Fiat Chrysler's reporting currency is the euro, but a large part of Maserati's revenues come from the United States in US dollars, which is why the weakening US dollar against the euro acts as a headwind to the company's profits.
In 2017, Japanese automakers such as Toyota (TM) and Honda Motor Company (HMC) benefited due to the weak Japanese yen against the US dollar. The appreciating US dollar typically hurts the profits of mainstream US auto giants (XLY) such as General Motors (GM) and Ford (F).
Strong profitability
In 1Q18, Maserati segment's adjusted EBIT (earnings before interest and tax) stood at 86 million euros or ~$103 million, down 20% YoY. However, Maserati's adjusted EBIT margin rose to 11.4% in 1Q18 from 11.3% a year ago. Reduced industrial costs and a positive product mix played an important role in boosting Maserati's profit margins in the first quarter.
Read on to the next part where we'll find out how FCAU's current debt position looks after its 1Q18 results.