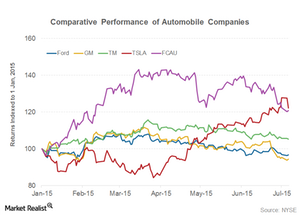 Fiat Chrysler Reportedly Puts Magneti Marelli on the Block
Is Magneti Marelli up for sale?
Fiat Chrysler Automobiles N.V. (FCAU) has been in the headlines ever since it came up with its IPO (initial public offering) last year. According to a Reuters report, Fiat has put Magneti Marelli, its auto part making unit, on the block.
The deal could raise more than $3.3 billion for Fiat Chrysler. The company has denied that it's exploring the sale of Magneti Marelli. However, looking at Fiat Chrysler's elevated debt levels, the possibility of such a deal can't be totally ruled out.
Article continues below advertisement
Fiat Chrysler's industry consolidation call
Prior to the Reuters report, Fiat Chrysler dominated the headlines for advocating an industrywide consolidation. It also approached General Motors (GM) for merger talks only to be rebuffed by GM.
Fiat Chrysler is also looking at an appropriate time for Ferrari's IPO, which was expected to take place around October. Fiat Chrysler would be offloading 10% of Ferrari. A spin-off is expected next year.
Series overview
In this series, we'll present a complete business overview of Fiat Chrysler. We'll look at Fiat Chrysler's major operations and key financial ratios. We'll also explore some possible reasons why Fiat's merger proposal didn't find common ground with General Motors.
Fiat Chrysler's stock market performance in 2015 has far exceeded other automakers, including Ford (F) and Toyota Motor Company (TM), as you can see in the above graph.
Together, F and GM make up ~4.5% of the Consumer Discretionary Select Sector SPDR ETF (XLY).
Fiat Chrysler debuted on the stock market at the end of the last year. However, the pre-merger entities—Fiat and Chrysler—have a long history. In the next part, we'll take a look at Fiat Chrysler's historical timeline.