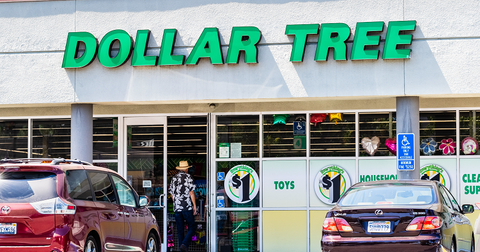 Dollar Tree Stock: Why JPMorgan Has Become Cautious
By Anirudha Bhagat

Updated
Dollar Tree (DLTR) stock fell 2.3% yesterday after JPMorgan Chase analyst Mathew Boss downgraded it to "neutral" from "overweight." Boss also trimmed its target price by 23% to $96, which implies a 3% upside from its closing price of $93.03 yesterday.
The company's dismal performance in its latest quarter and disappointing outlook have made Boss skeptical about its turnaround plans. On November 26, Dollar Tree reported lower-than-expected third-quarter earnings results. Its earnings fell 8.5% year-over-year despite its revenue rising by 3.7%.
Dollar Tree noted that its higher shipping costs and distribution and occupancy expenses offset its higher revenue. The company added that consumers' preference for narrow-margin consumables also weighed on its bottom line.
Article continues below advertisement
Boss is also concerned about Dollar Tree's turnaround plans, given the possible impact of tariffs on Chinese imported goods. During its third-quarter earnings release, Dollar Tree warned that the import tariffs would increase the cost of goods sold in Q4. Therefore, the discount retailer lowered its fiscal 2019 EPS guidance to $4.66–$4.76 from $4.90–$5.11.
Analysts trim target prices
Boss wasn't the only analyst to downgrade Dollar Tree stock after its earnings release. Other downgrades were as follows:
Telsey Advisory Group downgraded Dollar Tree to "market perform" from "outperform" and lowered its target price to $100 from $117.
RBC Capital reiterated its "outperform" rating for Dollar but trimmed its target by $21 to $106.
Piper Jaffray lowered its target to $106 from $120, and reaffirmed its "outperform" recommendation.
Credit Suisse lowered its target to $108 from $125.
Jefferies cut its target by $5 to $100.
BMO Capital cut its target to $98 from $102.
Deutsche Bank cut its target by $10 to $96.
Before the company's November 26 earnings release, 56% of the 27 analysts covering Dollar Tree stock recommended "buy," and 44% recommended "hold." However, as of today, 48% suggest "buy," and 52% suggest "hold." Their average target price for DLTR has also reduced drastically, by 9.6% to $105.36 from $116.56 on November 25. Their new target price implies a 13.3% return over the next year.
Article continues below advertisement
What's hindering Dollar Tree's growth?
Dollar Tree has been in trouble since it bought the struggling Family Dollar business in 2015. The company argued that the nearly $9 billion buyout deal would make it more competitive.
However, Family Dollar was grappling with poor product selection, unhappy staff, and low investments in store maintenance. These issues were hurting Family Dollar's sales and margins. Therefore, instead of offering revenue and cost synergies, the acquisition just added more expenses for Dollar Tree.
Another significant challenge associated with the acquisition is the massive difference in Family Dollar's and Dollar Tree's business models. Although both companies are discount retailers, Dollar Tree sells all of its merchandise for $1, and Family Dollar has a higher selling price point.
To counter all these challenges, Dollar Tree is undergoing a multiyear store optimization initiative. Under the strategy, the company is closing underperforming Family Dollar stores, remodeling some stores, and rebranding some Family Dollar stores into Dollar Tree stores. Moreover, the company is working on changing Family Dollar stores' pricing model.