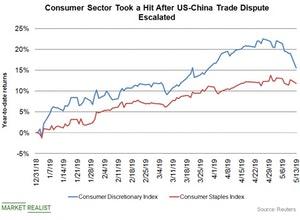 US-China Trade Tensions: Why the Consumer Sector Took a Hit
By Sushree Mohanty

May. 14 2019, Published 12:53 p.m. ET
How is the consumer sector looking this year?
After the recent trade dispute with the United States and China's retaliation, the consumer sector took a hit. Many consumer stocks declined on May 13. The consumer discretionary sector was down 2.9% while the consumer staples sector closed with a loss of 0.83% on May 13.
Article continues below advertisement
Strong optimism about a US-China trade deal drove the consumer sector's outlook this year since most consumer companies earn a substantial amount of revenue from overseas operations. The job numbers and the declining unemployment rate also uplifted the sector's performance this year. More jobs boosts consumer spending. After the April jobs report, the consumer discretionary sector grew 1.4% while the consumer staples sector rose 0.74% on May 3. The United States added 263,000 jobs in April, and the unemployment rate fell to 3.6%.
The recent trade talks took a toll on the consumer sector
While the strong optimism for the trade deal resolving uplifted the sector this year, the recent trade talks took a toll on the sector's performance. In an article with CNBC last week, UBS analyst Jay Sole discussed how the new tariffs, if enacted, could disrupt softline and hardline retail stocks. Softline retail stocks include stores that sell items like apparel and linens while hardline includes stores that sell appliances and electronics. A Goldman Sachs analyst mentioned that fixed-point retailers like Dollar Tree (DLTR) and Five Below (FIVE), which import goods from China, could be affected.
Apparel retailer stocks like Gap (GPS), Ralph Lauren (RL), and Kohl's (KSS) fell 6.6%, 4.8%, and ~4.0%, respectively, on May 13. Dollar Tree and Five Below (FIVE) closed with losses of 4.4% and 5.6%, respectively, on May 13. The SPDR S&P Retail ETF (XRT) was also down 3.8% on May 13.
An increase in tariffs could push these retailers to raise prices, and if job numbers and income don't improve, consumer spending could get hampered, affecting these stocks.
In terms of year-to-date returns, the consumer discretionary index has gained 15.5% while the consumer staples sector has gained 11.7% as of May 13. A May 10 Factset report says the consumer sector has seen the most significant increase in earnings since May 31.
Will the escalating trade tensions pull the consumer sector down this year, or could better job numbers and earnings balance the sector's performance? Investors need to watch closely in the coming months.