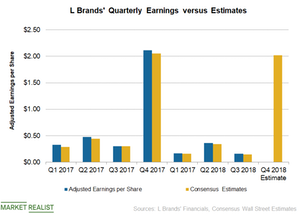 A Look at L Brands' Margin and Bottom-Line Expectations
By Victoria Dean

Jan. 10 2019, Updated 9:00 a.m. ET
Margins numbers
For the first three quarters of 2018, L Brands' (LB) gross margin contracted by 240 basis points to 35.0% due to the lower gross margin at Victoria's Secret. L Brands has seen a deceleration in its merchandise margins for Victoria's Secret, mainly due to higher promotions. However, Bath and Body Works' gross margin improved for the first three quarters of 2018 due to higher merchandise margins and leverage achieved in buying and occupancy costs.
Article continues below advertisement
However, selling, general, and administrative (SG&A) expenses have risen in 2018. For the first three quarters, SG&A expenses rose 14.5% year-over-year or YoY. It's facing higher selling expenses at Bath and Body Works due to increased sales volumes and higher wages. Expenses are also rising due to expansion in China. As a percentage of sales, SG&A expenses rate expanded by 180 basis points to 29.7%.
Due to higher expenses, operating profit decreased 41.0% YoY to $437.3 million. Operating margin shrank by 430 basis points to 5.2% for the first nine months of 2018.
EPS numbers
As a result, L Brands EPS for the first three quarters of 2018 was $0.37, decreasing 66.7% YoY. Higher expenses and a substantial decrease in other income dented the bottom-line performance in 2018 despite lower taxes.
In the fourth quarter, L Brands' management expects its EPS in the range of $1.90–$2.10. However, for 2018, its adjusted EPS are estimated to be $2.60–$2.80.
Analysts forecast fourth-quarter adjusted EPS to decline 4.3% to $2.02. For 2018, Wall Street analysts expect L Brands adjusted EPS to fall 15.6% YoY to $2.70, and for fiscal 2019, adjusted EPS are projected to increase 1.1% to $2.73.
L Brands' dividend plans
L Brands slashed its dividend by 50% in November. L Brands plans to channel the $325 million in savings from the reduction in dividend toward deleveraging its balance sheet. The annualized dividend now stands at $1.20.
L Brands dividend yield was 8.5%, based on its January 8 closing price of $28.20. The dividend yields for Gap (GPS), Abercrombie & Fitch (ANF), and American Eagle Outfitters (AEO) stood at 3.8%, 3.8%, and 2.8%, respectively.