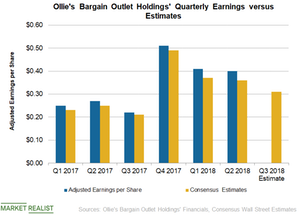 Ollie's Bargain Outlet's Q3 Earnings Are Expected to Grow 40.9%
By Victoria Dean

Nov. 30 2018, Updated 7:32 a.m. ET
Analysts are upbeat
Ollie's Bargain Outlet Holdings (OLLI) will announce third-quarter 2018 results on December 4. Analysts expect adjusted EPS growth of 40.9% to $0.31 for the third quarter. Higher sales and the lower tax rate are likely to result in strong bottom-line numbers.
Meanwhile, analysts expect Dollar General (DG) to report 28.6% growth in adjusted EPS to $1.26 for the third quarter on a YoY basis. Dollar Tree's (DLTR) third-quarter adjusted EPS are projected to be $1.14, which would be a 12.9% increase from the third quarter of 2017.
Article continues below advertisement
EPS outlook
For the third quarter of 2018, Ollie's Bargain management hasn't given any guidance. For fiscal 2018, Ollie's expects net income of $114.0 million–$116.0 million, and the effective tax rate would be 26%. The company increased its EPS range to $1.73–$1.76 versus the earlier expected range of $1.69–$1.72. Analysts expect Ollie's to report adjusted EPS growth of $1.76, representing YoY growth of 40.8%.
For fiscal 2018, Ollie's has projected capital expenditure at $70 million to $75 million to be used for store openings and the acquisition of Toys "R" Us locations. For the first six months of fiscal 2018, the company generated cash from operations of $7.2 million. During this period, it incurred $10.2 million in capital expenditure.
Ollie's second-quarter adjusted EPS came in at $0.40, topping the analyst estimate of $0.36 and $0.27 reported in the second quarter of 2017. The top-line growth and lower tax expenses led to strong bottom-line numbers despite increasing costs.
Margin numbers
For fiscal 2018, Ollie's Bargain Outlet has projected its operating income to be in the band of $154.0 million–$156.0 million. Its gross margin is expected to be 40.1% in fiscal 2018, which is flat on a YoY basis.
Ollie's gross margin contracted 30 basis points to 39.1% in the second quarter of 2018 compared to the second quarter of 2017. Higher supply chain costs negatively impacted the company's gross margin. Selling, general, and administrative expenses rose 11% to ~$73 million mainly due to increases in store selling expenses. On the other hand, its SG&A expense rate improved 50 basis points to 25.3% due to sales improvement. The operating margin witnessed a 40-basis-point expansion to 12.1%.