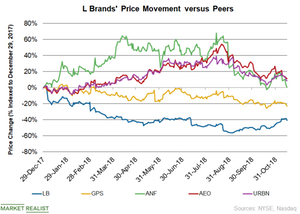 How Has L Brands Stock Performed This Year?
YTD losses stand at 40.7%
As of November 15, L Brands (LB) stock price is down 40.7% on a YTD basis to $35.69. Weakness in Victoria Secret lingerie and the PINK lingerie business is a cause of concern. Meanwhile, apparel players like Abercrombie & Fitch (ANF), American Eagle Outfitter (AEO), and Urban Outfitters (URBN) have gained 0.6%, 11.3%, and 8.3%, respectively. However, Gap (GPS) is down 23.0% to $26.22 as of November 15.
Article continues below advertisement
Can the stock sustain the momentum after the third quarter?
L Brands is expected to report third-quarter results on November 20. Analysts' consensus estimates for the adjusted EPS in the third quarter stands at $0.15, which represents a 50.0% decline on a YoY basis. L Brands is projected to report sales of $2.70 billion, which reflects 3.3% growth on a YoY basis. Weakness in Victoria's Secret lingerie business is likely to be offset by the strong-performing bath and body works business.
Recently, it has been widely speculated that L Brands might make a re-entry in the swimwear business after exiting it in 2016, citing it as a non-core business. Also, the company is considering strategic alternatives for its La Senza brand. The company is also now focusing on bralettes, which have become very popular, especially in the comfort-conscious millennial demographic. Victoria's Secret lingerie unit CEO, Jan Singer, recently stepped down after being at the helm for only two years.
A look at PE valuation
As of November 15, L Brands was trading at a 12-month forward PE multiple of 13.4x. In contrast, Gap is trading at a 12-month forward PE ratio of ~9.8x. However, Abercrombie & Fitch, American Eagle Outfitters, and Urban Outfitters are trading at 12-month forward PEs of 21.1x, 13.1x, and 13.4x, respectively, as of November 15.
For fiscal 2018, analysts expect L Brands to report sales growth of 4.7% to $13.2 billion. Meanwhile, for Gap, Abercrombie & Fitch, and American Eagle Outfitters, top-line growth is expected to be 4.4%, 2.0%, and 6.4% respectively, for fiscal 2018. For fiscal 2019, Urban Outfitters is expected to report top-line growth of 9.7%.