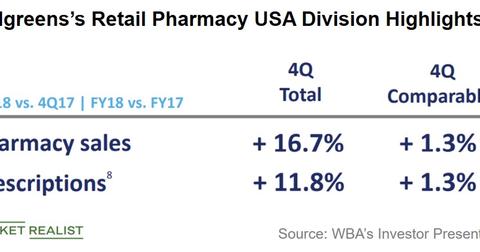 Walgreens: Key Revenue Drivers in Fourth Quarter of Fiscal 2018
By Sonya Bells

Updated
Pharmacy USA continues to drive top line
As we've already seen in this series, Walgreens Boots Alliance's (WBA) fourth quarter of fiscal 2018 sales increased 11% YoY (year-over-year) to $33.4 billion. As in the previous quarters, growth was driven by a strong performance of its Retail Pharmacy USA division.
The division accounted for 76% of fourth-quarter sales and recorded a 14.4% YoY increase in revenue to $25.5 billion. Fiscal 2018 sales increased 12.7% YoY and included organic sales growth of 3.4%.
Article continues below advertisement
Pharmacy sales increased 16.7% YoY during the quarter, driven by higher prescription volumes from the of Rite Aid acquisition and from the ongoing strength in the central specialty business. Comparable pharmacy sales increased 1.3% YoY as the positive impact of brand inflation was partially offset by reimbursement pressure and the impact of generics.
Walgreens filled ~280 million prescriptions (adjusted to 30-day equivalents), which was an increase of 11.8% YoY. Prescriptions filled at comparable stores increased 1.3% during the quarter.
Walgreens's US retail sales increased 8.3% YoY, driven primarily by the acquisition of Rite Aid (RAD) stores. Comparable retail sales, however, declined for the ninth consecutive quarter and fell 1.9%. Softness in consumables and general merchandise and personal care products dragged down sales.
A look at WBA's international businesses
Retail Pharmacy International sales declined 1.9% YoY to $2.9 billion. On a constant currency basis, sales were down 2.7% YoY, driven by a 3.4% fall in comparable pharmacy sales and a ~1% decline in comparable retail sales.
Pharmaceutical Wholesale revenue increased 2.3% YoY to $5.6 billion, driven by strong growth in emerging markets.
In the next part of this series, we'll look at Walgreens's margins and profitability for the fourth quarter of fiscal 2018.