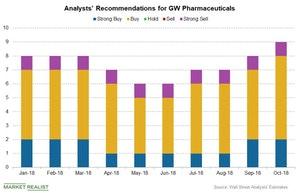 GW Pharmaceuticals: Recommendations and Market Capitalization
GW Pharmaceuticals
GW Pharmaceuticals (GWPH) has developed prescription medicines derived from the cannabis plant for the treatment of spasticity from multiple sclerosis. Its portfolio includes clinical stage cannabinoid products focused on the treatment of neurological conditions.
The above chart compares changes in analysts' recommendations since January 2018.
Article continues below advertisement
Analyst recommendations
Wall Street analysts estimate that GWPH stock could increase ~6.7% over the next 12 months. They've set a 12-month target price of $175 compared to its closing price of $164.07 on October 3.
There are nine analysts tracking GW Pharmaceuticals stock. Two of them have recommended a "strong buy," six have recommended a "buy," and one has recommended a "strong sell." The consensus rating for GW Pharmaceuticals is 2.11, which represents a "strong buy" for long-term growth investors and value investors.
Market capitalization
The market capitalization for GW Pharmaceuticals is ~$4.6 billion as of October 4.
The total number of GW Pharmaceuticals shares outstanding are ~27.77 million. Of those, free float shares are ~27.76 million, which is 99.97% of the total outstanding shares. Institutions hold ~79.1% of the total shares, while strategic entities own ~0.03%.
The top ten shareholders hold 45.6% of GW Pharmaceuticals shares. Capital Research Global Investors is the largest shareholder with 3.38 million shares. That's 12.2% of the company's total shares.
Capital World Investors holds 2.18 million shares, which is 7.8% of the total shares. Scopia Capital Management holds 2.04 million shares, which is 7.3% of the total shares.
The Invesco BLDRS Developed Markets 100 ADR ETF (ADRD) has 0.1% of its total investments in GW Pharmaceuticals (GWPH), 0.5% in Teva Pharmaceutical Industries (TEVA), 1.3% in Shire (SHPG), and 2% in Novo Nordisk (NVO).