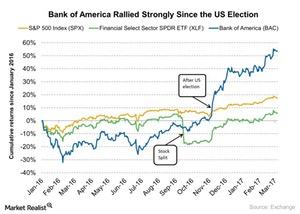 What Goldman Sachs Thinks about Bank of America
Goldman Sachs on Bank of America
In the previous part, we discussed why Goldman Sachs (GS) believes that the financial sector could continue to perform well in upcoming years. Four of the investment firm's favorite financial stocks are Bank of America (BAC), Citigroup (C), JPMorgan Chase (JPM), and Visa (V).
Article continues below advertisement
Article continues below advertisement
Performance of Bank of America
Bank of America (BAC) is currently trading at $25.26. Its 52-week high is $25.80, and its 52-week low is $12.05. The stock returned nearly 83% over the last one year. On a year-to-date basis, the stock returned 12% as of March 8, 2017. The improved performance is mainly due to optimism about the US economy (SPY) (QQQ).
How the recovery in economic activity impacts the bank's profit margin
The financial sector generally performs well when there is an improvement in economic activity. The improving US consumer confidence indicates that consumer participation in the economy is improving. Consumer spending is one of the major backbones of US GDP (gross domestic product) growth. When the business cycle improves, consumers tend to borrow more from banks and increase spending. The increased borrowing will increase the profit margin of various US banks (XLF).
In the present scenario, the business cycle is showing some improvements. When the business cycle improves, cyclical sectors tend to perform well. In the present scenario, money is flowing into various cyclical sectors such as energy (XLE), technology (XLK), industrial (XLI), and materials (XLB). These sectors are showing improved performances.
Goldman Sachs believes that the above four banks will benefit the most from a recovery in economic activity and the Fed's gradual rate hike process.
In the next part of this series, we'll analyze Goldman Sachs's view on Citigroup (C).