Colgate-Palmolive's Developed Markets Remained a Drag in 1Q17
Net sales in North America fell 5.0% in 1Q17, reflecting a strong decline in volumes coupled with lower pricing.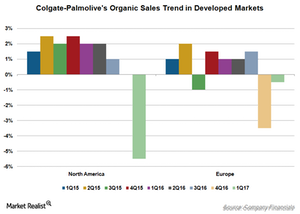 Developed markets saw sluggish growth
Colgate-Palmolive's (CL) sales once again suffered in the developed markets, which include North America and Europe (excluding Central Europe). Sales in developed markets fell about 4% YoY (year-over-year), reflecting a strong decline in volumes mainly in the US (SPY).
Most of the consumer product companies including Kimberly-Clark (KMB) and Procter & Gamble (PG) are witnessing sluggish sales in the domestic market, while Clorox (CLX) was the exception with stellar sales growth across its categories in the US.
Article continues below advertisement
Article continues below advertisement
North America was hit the worst
Net sales in North America fell 5.0% in 1Q17, reflecting a strong decline in volumes coupled with lower pricing. These falls were partially offset by favorable currency movement. Organic sales fell 5.5% as the company's planned portfolio restructuring in the home care segment, retailers' inventory reductions, and category slowdown battered 1Q17 sales.
Despite challenges, the company maintained its leadership in the toothpaste and manual toothbrush category through new product launches. New products including Colgate Total Clean-In-Between, Colgate Optic White Beauty Radiant, Colgate Sensitive Smart White, and Tom's of Maine Rapid Relief Sensitive toothpaste are gaining traction among consumers. Meanwhile, Colgate's Total 360° 4 Zone manual toothbrush generated strong sales.
Hill's net sales rose 0.5% in 1Q17 on account of higher pricing. The business segment witnessed volumes declines in the US, Western Europe, and Turkey. Organic sales remained flat during the quarter.
European sales improved sequentially
Colgate-Palmolive's net sales fell 5% in Europe mainly on account of adverse currency fluctuations. Organic sales inched down 0.5%, a stark improvement from the 3.5% decline in 4Q16, due to lower pricing offset in part by increased volumes. Increased volumes in the UK, the Netherlands, and Spain were partially offset by declines in France.
The company maintained its market leading position in the oral care segment and witnessed market share gains in the toothpaste category in Italy, the Czech Republic, Ireland, Slovenia, Bulgaria, and Bosnia. Meanwhile, the company's premium products like Colgate Enamel Strength, Colgate Natural Extracts, and Sanex Zero% shower gel and deodorant have been resonating well with consumers and witnessing increased demand.
Let's look at how the company's emerging market segment performed in the next part of the series.