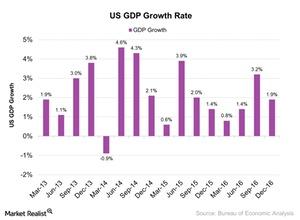 What Does Jack Bogle Predict for US Real GDP?
US GDP
In 4Q16, US (SPY) (QQQ) (IVV) (VFINX) real GDP grew at an annual rate of 1.9% compared to a 3.5% rise in 3Q16. The OECD (Organization for Economic Co-operation and Development) projects that US GDP could grow at an average rate of ~2.6% over the next ten years. However, Jack Bogle anticipated that GDP will barely grow 2% over this time period.
Article continues below advertisement
GDP and corporate profits
According to Jack Bogle, corporate profits highly correlate with GDP. In 3Q16, the real GDP annual growth rate was the highest since 4Q14. According to BEA (Bureau of Economic Analysis), corporate profits with inventory valuation adjustment and capital consumption adjustment rose by $117.8 billion in 3Q16 compared to a fall of $12.5 billion in 2Q16. In 2Q16, US real GDP grew at an annual rate of 1.4%.
Will the stronger dollar hurt GDP?
The rise in the US dollar index (UUP) (USDU) (UDN) could be a worry for the country's GDP because the expensive dollar could hurt the country's exports. In the last year, the US dollar has risen nearly 3.7%. The dollar index could measure the degree of economic uncertainty. A rising dollar index could improve investors' confidence in the economy and it could hamper the country's economic growth by hampering its exports.
You may be interested to read Why Goldman Sachs Believes There's a Chance of Market Disruption.