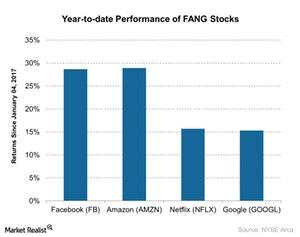 Why Marc Faber Thinks These Stocks Are Vulnerable
Marc Faber on FANG stocks
Marc Faber shared his view on FANG stocks in a recent interview. FANG stocks include Facebook (FB), Amazon (AMZN), Netflix (NFLX), and Google (GOOGL).
Faber said in June 2017 that investors can find bubbles in the above FANG stocks. Now he believes that the FANG stocks look more vulnerable. He said that these stocks have seen lows and that investors should focus on which ones are showing recovery.
According to Faber, if these stocks' recoveries don't make new highs, then they could post negative returns. If this happens, then we might see a change in which stocks are leading the markets. In the last ten years, these FANG stocks have been market leaders, according to Faber. The market capitalizations of these stocks are also improving gradually.
These stocks have seen tremendous growth in the past few years. Facebook, Amazon, Netflix, and Google returned nearly 388%, 345%, 1,157%, and 217%, respectively, in the last five years.
Faber believes too much optimism about these stocks inflated their market prices. These stocks have very good business fundamentals. However, Faber believes that the bubble in these stocks is making them more vulnerable.
In the next part of this series, we'll analyze why Marc Faber is choosing Europe over the US for investments.
Article continues below advertisement
Article continues below advertisement