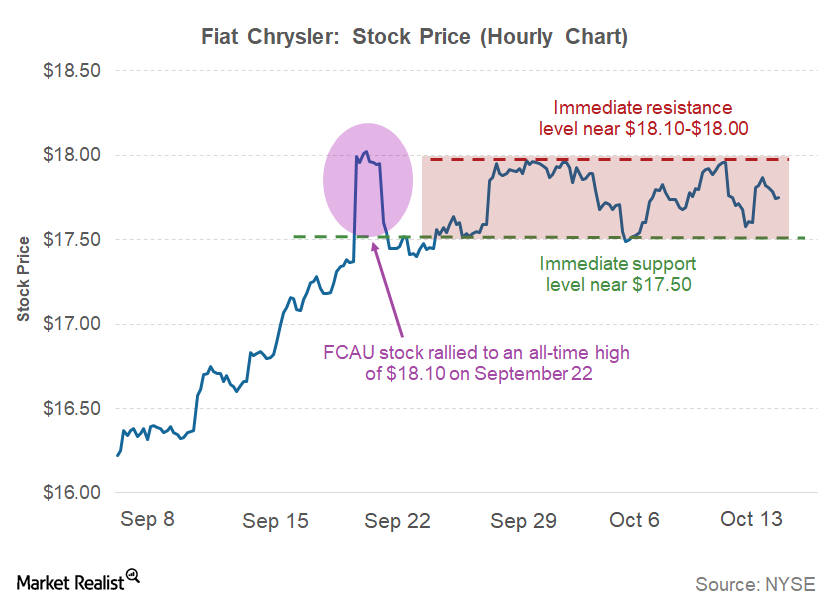 Why Fiat Chrysler Stock Is Trading in a Narrow Range
Fiat Chrysler stock
Last week, which ended October 13, 2017, Fiat Chrysler (FCAU) stock remained mixed and witnessed a minor rise of 0.90%. In the previous week, the stock fell 1.7% after outperforming the broader market by a huge margin in September 2017. In September, FCAU rose 18.4% compared to a 1.9% rise for the S&P 500 benchmark (SPY).
For FCAU, 3Q17 was the best quarter since it was listed on the New York Stock Exchange in October 2014. It posted a massive rise of ~69.2% for the quarter.
Article continues below advertisement
Key support and resistance levels
As of October 13, 2017, Fiat Chrysler stock was trading at $17.75, not far from its all-time high of $18.10 last month. A violation of this all-time high level could attract renewed buying in the coming sessions.
In the last couple of weeks, FCAU stock has traded in a narrow price range of $18–$17.50. Its 14-day RSI (relative strength index) indicator has eased off from the overbought territory with a reading of 65.1 on October 13, 2017. Fiat Chrysler stock could find an immediate support near $16.40 followed by the next support price level near $14.90.
Recent updates
On August 21, 2017, a Reuters report suggested that Great Wall Motors, a Chinese auto giant, had confirmed its interest in acquiring some business segments of Fiat Chrysler.
According to another Reuters report published last week, Fiat Chrysler's chief executive officer Sergio Marchionne said he wasn't convinced that consolidating with Great Wall Motors was the solution. The report highlighted that Marchionne mentioined "sensitive issues associated with trans-national mergers."
In September 2017, Fiat Chrysler's US sales continued to fall for the 13th month in a row and fell 9.7% YoY (year-over-year). In the last few quarters, FCAU has been cutting its US fleet sales to rental car companies to protect its profit margins. In September, its US fleet sales declined 41.0% YoY, which hurt its total US sales for the month.
In the next part, we'll look at the recent price action for Tesla stock.