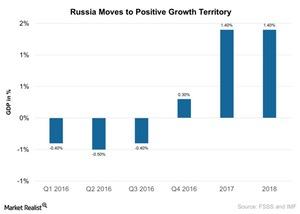 Russia's GDP Is Back to Positive Territory
By Mary Sadler

Nov. 20 2020, Updated 5:26 p.m. ET
Russian economy
Russia is currently surrounded by political turmoil with Syria and Ukraine, which has led to Western sanctions. The sanctions and lower oil prices have been impacting Russia's market performance since 2014. However, the recovery of oil prices in the latter half of 2016 has helped the Russian economy to recover from negative growth in 4Q16. Recently, the International Monetary Fund (or IMF) also upgraded its forecast for Russia's gross domestic product (or GDP) growth from 1.1% to 1.4% in 2017 and from 1.2% to 1.4% in 2018.
Article continues below advertisement
GDP growth in 4Q16
The Russian economy advanced 0.3% in 4Q16 as compared to a 0.4% contraction in 3Q16. The Russian economy (ERUS) recorded its first expansion in 4Q16 since 4Q14. The main driver of the positive performance in 4Q16 was its net external demand. Its exports rose 3.7% in 4Q16 as compared to 4.2% in 3Q16. The household spending and investments also contracted at a slower pace in 4Q16 as compared to 3Q16.
As we can see in the chart above, the 2017 and 2018 growth forecasts have been revised up for Russia, reflecting stronger economic activity mainly due to oil price (USO) recovery in 2016. According to the IMF report, the resilient financial markets and a cyclical recovery in manufacturing and trade are likely to improve Russian economic growth in 2017. The recovery in commodity (DJP) prices has also helped reduce the likelihood of deflation on a global (ACWI) level in 2017. However, if the geopolitical tension between Russia and the US escalates, it could spook the market in 2017.
Stocks of Russian energy companies (XLE) like Rosneft (ROSN) and Gazprom (OGZPY) were up 59% and 38%, respectively, in 2016. The Prime Minister of Russia, Dmitry Medvedev, also expects international rating agency S&P (SPGI) to upgrade its sovereign credit rating from "speculative BB+" to "investment-grade BBB" in 2017 or early in 2018. Recently, Moody's (MCO) and Fitch changed the outlook for Russia from negative to stable in March 2017.
The iShares MSCI Russia Capped ETF (ERUS), which tracks Russian equities, rose about 55% in 2016.
Let's look at the inflationary trend in Russia in our next article.