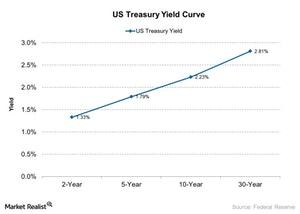 Gundlach on Higher Yield: Watching the Copper-to-Gold Ratio
Gundlach on bond yields
Gundlach said in the interview, "One of the things that I follow to give a really good short-term cyclical indication of the yield of the 10-year Treasury is the ratio of copper to gold. When the copper-gold ratio is rising, it's incredibly suggestive that something is going on that might be a little inflationary. It suggests to me yields are going to break out to the upside. … The leg up in yields will be a catalyst of volatility in the market."
Article continues below advertisement
Copper-to-gold ratio
The copper-to-gold ratio is one of the important key indicators that gauge global economic health. Investors generally prefer gold (GLD)(RING) during times of global turmoil. It's considered a safe haven asset while copper is considered a a key industrial metal. Copper performs well when economic activity picks up.
The rising copper-gold ratio suggests that demand for copper is increasing, which is boosting prices. The rising demand for the key industrial metal signals that economic activity may be picking up, which would create an inflationary situation.
According to Gundlach, the rising bond yield will also increase market volatility. Rising volatility could drag the stock market (VFINX) lower. If we analyze the activity of the central bank, we see that the Fed is continuing its gradual rate hike process. The improvement to the inflationary situation and the labor market is helping the Fed's gradual rate hike process. During a gradual rate hike process, the bond yield generally rises.
For more analysis, check out Why Marc Faber Predicts a Correction in the S&P 500 Index.