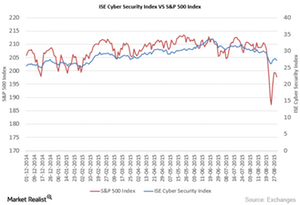 ISE Cyber Security Index Beats S&P 500 Index
Cybersecurity cost varies year-over-year
Cybercrime is becoming a significant issue for both medium and large-scale companies. If we compare cybersecurity budgets by company size, there's an increase of 7.14% and 4.85% for medium and large-scale US businesses, respectively.
For small scale businesses, there's been a drop of 20.65%. Average annual costs for cyberattacks vary according to industry. Energy and Utilities, Financial Services, and Technology sectors are bearing the cost of $13.18 million, $12.97 million, and $8.51 million, respectively.
Finance and Insurance is the most targeted sector, followed by Manufacturing and Retail. Around 80 to 90 million cybersecurity attacks take place every year, and 70% of those remains undetected. About 1 billion data were compromised in the United States in 2014.
Since December 2015, the ISE Cyber Security Index (HACK) has beaten the S&P 500 Index (SPX) by 10.54 percentage points. Cybersecurity stock is expected to grow rapidly. Currently, it's estimated to reach $170 billion in 2020, from $76 billion in 2015.
Cybertheft started getting more prevalent in 2013–2014, when Ubisoft (UBI), KT Corporation, Adobe (ADBE), AOL, and eBay (EBAY) were targeted. We've also seen a drastic fall in their share prices by 2.48%, 5.82%, 4.04%, 23.56%, and 7.35%, respectively.
Article continues below advertisement
According to Ponemon Institute and Hewlett-Packard (HPQ) reports between 2010 and 2014, there was an increase of 96% in the cost of cybercrime for US companies. Will the increase in technology overpower hackers that target vehemently vulnerable organizations? The findings also showed that the ability to defend the attacks has gradually declined, and the time it takes to resolve the issue has risen by 33%.