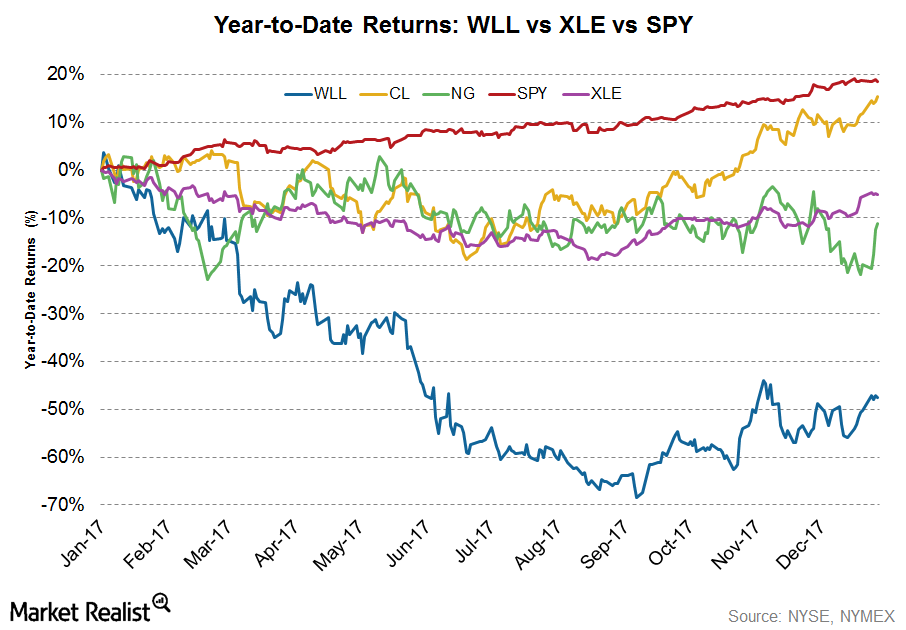 What Drove Whiting Petroleum Stock in 2017?
Whiting Petroleum stock
Whiting Petroleum (WLL) stock rose 5.3% in the week ending December 29 from the previous week ending December 22. However, the stock fell ~47.6% by the end of 2017.
The increase in Whiting Petroleum stock last week was due to a significant milestone in crude oil prices at the end of the year. Crude oil prices touched $60 per barrel in intraday trading on December 26 and closed slightly lower at $59.97 per barrel.
Article continues below advertisement
However, crude oil prices (USO) (UCO) hadn't been performing well the whole year. As you can see above, they mainly fell in 1H17. Crude oil prices started rising in late September and closed the year ~15.5% higher. Meanwhile, natural gas prices (UNG) haven't seen the same rebound as crude oil prices. Natural gas prices fell 11.2% by the end of 2017.
Whiting Petroleum also underperformed the energy sector (XLE), which fell 5% in 2017, and the broader market (SPY) (SPX-INDEX), which rose ~18.5% in 2017.
What impacted Whiting Petroleum stock in 2017?
At the beginning of 2017, Whiting Petroleum's management announced a capital budget of $1.1 billion for the year—almost double its 2016 capex of $553.6 million. In 2Q17, Whiting Petroleum reduced its capex budget to $950 million, which was still 72% higher than its 2016 capex. However, the increased capex wasn't supported by a production growth forecast. Whiting Petroleum's production guidance for 2017 was 117.5 Mboepd (thousand barrels of oil equivalent per day)—compared to its production of ~130 Mboepd in 2016. It likely disappointed some Whiting Petroleum investors.
Another key factor that put downward pressure on Whiting Petroleum stock was its announcement of a reverse stock split on November 8.
On December 11, Whiting Petroleum announced that it expects impairment charges of $800 million–$900 million in 4Q17. Whiting Petroleum's management noted that the impairments resulted from its decision to focus more on its activities in the Williston Basin in 2018. It also impacted Whiting Petroleum stock. After the announcement, Whiting Petroleum stock fell 7.5% the next day.