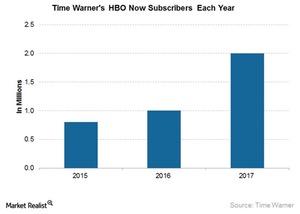 Why Time Warner Intends to Pull Its HBO Programming from Amazon
Time Warner to pull its programming from Amazon
In 2014, Time Warner's (TWX) HBO entered into a deal with Amazon (AMZN) Prime Instant Video to distribute HBO's programming through Amazon Prime memberships. This agreement extends to the end of 2018. However, Time Warner announced at its fiscal 1Q17 earnings call that it most likely won't extend the agreement beyond 2018. The company pointed out that considering the acceleration in its subscription revenue growth for HBO Now, its digital platform, it makes more sense to distribute its HBO programming through HBO Now.
HBO Now is increasingly strategically important to Time Warner (TWX). By the end of 2016, HBO Now crossed 2.0 million subscribers in the United States (SPY). It's also distributed by third-party digital distributors such as Amazon (AMZN).
Article continues below advertisement
Time Warner, at the Deutsche Bank Media, Internet, and Telecom Conference in March 2017, said that on the programming side of HBO Now, it didn't believe in producing programming that was driven solely by viewers' choices of particular genres. Instead, it believes in producing television shows across all genres.
Improving the reach of HBO Now
Time Warner said in an earlier earnings call that its tie-in with third-party distributors such as Amazon has accelerated the subscriber base for HBO Now. It also said it plans to tie in with other third-party digital distributors in the near future to improve the reach of its HBO brand and give consumers the option to subscribe to HBO Now through multiple distributors.