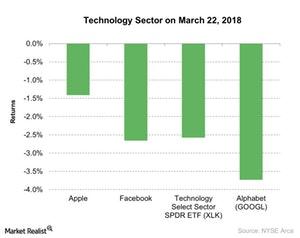 Facebook Stock Is Dragging the Tech Sector Down
Performance of the technology sector
In the previous article, we saw that the major US indexes showed a significant fall in performance after President Trump's announcement of tariffs on Chinese imports. The recent fall in the technology sector is also dragging down the performance of the equity market.
Article continues below advertisement
Correlation between the tech sector and the S&P 500 Index
The technology sector (XLK) has had a very high positive correlation of 0.95 with the S&P 500 Index (SPY) in the past 12 months. As a result, the fall in the technology sector's performance is affecting the performance of the S&P 500 Index.
Facebook recently faced a significant crisis as data research firm Cambridge Analytica took the personal data of 50 million Facebook users without their permission. This news dragged down the performance of Facebook stock, which became a concern for US technology players.
FB's stock price has fallen nearly 11.0% in the past one week. Facebook's CEO, Mark Zuckerberg, recently said that this event was "a major breach of trust, and I'm really sorry that this happened."