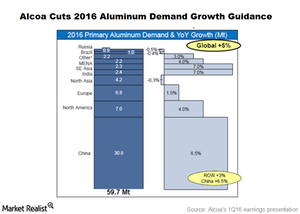 Why It's No Surprise that Alcoa Cut Aluminum Demand Guidance
Aluminum demand guidance
During its 4Q15 earnings conference call, Alcoa (AA) said that the company expects global aluminum demand will grow 6% year-over-year (or YoY) to 60.5 million metric tons in 2016. The assumption was based on an 8% YoY growth in Chinese aluminum demand. In our previous series, we noted that Alcoa's demand growth estimates looked aggressive given the downside risks to Chinese aluminum demand. Notably, other aluminum producers including Century Aluminum (CENX), Norsk Hydro (NHYDY), and RUSAL had more modest demand growth expectations.
Article continues below advertisement
Deficit guidance
However, Alcoa has now revised down its 2016 global aluminum demand growth projection to 5%. The company expects Chinese aluminum demand to grow 6.5% YoY this year. However, Alcoa has kept the deficit projection largely intact, as the company thinks supply-side action will be higher than what it previously expected.
Note that commodity (DBC) markets are in a deficit when demand exceeds production. Global aluminum markets have been in a surplus for almost a decade now. In the last couple of years, rising Chinese aluminum exports moved the markets into a surplus despite production cuts by other aluminum producers like Century Aluminum (CENX) and Rio Tinto (RIO).
Is Alcoa's demand estimate still aggressive?
To be sure, Chinese aluminum production and exports have fallen steeply this year. However, according to Bloomberg, some of the idled smelters in China have been restarted after prices bounced back. Alcoa's projection of a deficit of nearly 1.1 million tons in the aluminum market looks aggressive given the upside risk to aluminum production in China and the Middle East.
With Alcoa's 1Q16 earnings behind us, investors should also keep an eye on the company's 2Q16 guidance, which we'll discuss in the next part of the series.