Will Aluminum Demand Grow 6% as Alcoa Is Projecting?
There are valid reasons for aluminum producers to feel upbeat about aluminum demand growth.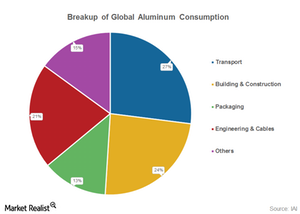 Aluminum demand
Previously, we looked at aluminum demand projections of different aluminum companies. Alcoa (AA) seems the most bullish on aluminum demand. However, Norsk Hydro (NHYDY) and Century Aluminum (CENX) don't share this optimism. Nonetheless, aluminum demand looks strong compared to other industrial metals like steel and copper
Global steel demand is expected to contract in 2016, making it the second consecutive year of demand slowdown. For copper, estimates range from a fall in demand to a slight rise. Having said that, there are valid reasons for aluminum producers to feel upbeat about aluminum demand growth. The chart above shows the end usage breakup of aluminum consumption according to the International Aluminum Association. Though this is based on 2007 data, we can still use it as a proxy for the current breakup.
Article continues below advertisement
Article continues below advertisement
Automobile demand
As you can see, transportation accounts for over a quarter of global aluminum demand. The percentage might have increased further if we look at aluminum's increasing use in vehicles. Vehicle sales growth continues to be strong in the three biggest automotive markets of China, North America, and Europe. Even Chinese auto sales have showed strength after falling in mid-2015. This trend seems driven by a sales tax cut in China. China cut purchase tax on some new vehicles last October.
Construction slowdown?
Building and construction account for another quarter of global aluminum demand. Though auto sales have been strong, construction activity, especially in China, has been sagging, which might put pressure on aluminum demand in 2016. The impact of China's construction slowdown is already visible in the country's steel demand. However, we might see a spillover to copper and aluminum demand in the coming years, as these metals typically are used when the building is nearing construction. This is unlike steel, which is used in the initial phase of a building's construction.
The 6% demand growth forecasted by Alcoa could be a bit aggressive. Later in this series, we'll explore what a demand slowdown could mean for aluminum. But before that, we'll look at the supply side projections given by different aluminum companies.
You can also consider the Materials Select Sector SPDR ETF (XLB) to get diversified exposure to the materials sector. Together, Alcoa and Ball (BLL) form 4.6% of XLB's portfolio.