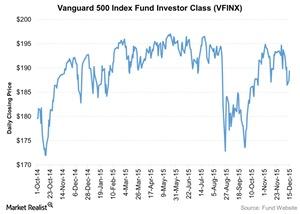 US Stock Indices Plunge after Oil Prices Rebound
US stock indices down
The three US equity indices that we review in this weekly series fell from December 8 to December 15, 2015, after a rebound in oil prices. Meanwhile, FOMC (Federal Open Market Committee), which began its meeting on December 15, will release its post-meeting statement on December 16. The US Federal Reserve, or the Fed, is expected to raise interest rates the first time since June 2006.
Notably, on December 15, the S&P 500 Index, which is tracked by the Vanguard 500 Index Fund Investor Class (VFINX) fell by 0.9%. The Dow Jones Industrial Average (DJIA) was down by 0.2% on the same day and remained below the psychologically important 18,000 level. Meanwhile, the NASDAQ fell by 2.1%.
Article continues below advertisement
Economic indicators as of December 15
Additionally, the CPI (Consumer Price Index) data was released on December 15 ahead of FOMC rate hike decision. Core CPI, or CPI excluding food and energy prices, grew by 2% YoY (year-over-year) basis, and this upbeat CPI data appears to show enough confidence for the Fed to go ahead with its highly anticipated, widely expected rate hike.
We should note here that advance retail sales and the PPI (Producer Price Index) were released on December 11. Advance retail sales grew by 0.2% in November, up from 0.1% in October, which indicates that retail sales have picked up due to the holiday season. Meanwhile, University of Michigan Consumer Confidence Index was also up to 93.8 points in December from 93.1 points in November.
Corporate news and earning results
The shares of both Exxon Mobil Corporation (XOM) and Chevron Corporation (CVX) rose after a rebound in oil prices.
Meanwhile, Carl Icahn, business tycoon and founder of Icahn Enterprises, has acquired more shares of troubled Xerox Corporation (XRX). He now holds a little more than 8% in Xerox. Similarly, David Tepper, the founder of hedge fund Appaloosa Management LP, has further raised his stake in TerraForm Power (TERP)—to 9.5% from 9.25%.
It's worth noting here that shares of FactSet Research Systems (FDS) were down after the company missed its earning expectations, while stocks of 3M (MMM) fell after the company released a weak earnings outlook.
Junk bonds
Junk bond yields surged week-over-week by 60 basis points and ended at approximately 8.8% on December 11, 2015. Due to the rise in yields, weekly returns of mutual funds investing in junk bonds including the American Funds American High-Income Trust Class A (AHITX) and the T. Rowe Price High Yield Fund Advisor Class (PAHIX) fell in the week that ended December 11.
Continue to the next part of this series, which will cover the developments in the primary and secondary markets for high-yield debt and leveraged loans, beginning with developments in the high-yield primary market issuance.