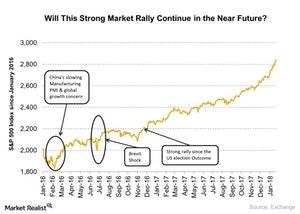 Miller: Bond Bear Market to 'Propel Stocks Significantly Higher'
<p>Legendary value investor Bill Miller has an optimistic view on the equity market.</p>
Bill Miller on the stock market
Legendary value investor Bill Miller has an optimistic view on the equity market. In the above part, we saw that he believes the bond bull market will end soon and the investor rush out from the bond market (BND) could boost the equity market (SPY).
He said, "Bonds have outperformed stocks for an entire generation and have done so with lower volatility and greater inherent safety due to their contractual payouts. That era is now over in my opinion and stocks will revert to their historic return premium over bonds as global economies grow."
Article continues below advertisement
Article continues below advertisement
S&P 500 Index's performance
The broader market S&P 500 Index (SPX-INDEX) already showed a strong rally in 2017 and also showed a strong start in 2018. The index rallied 19.6% in 2017. From January 2, 2018, to January 25, 2018, the index rallied nearly 6.2%. The improvement in fundamental factors, tax reform, improvement in earnings growth, and the expectation for further stimulus in the economy mainly drove the market movement in the past couple of days.
According to Bill Miller, investors' rush out from the bond market could "propel stocks significantly higher." In the last 35 years, the US ten-year Treasury yield (TLT) has been on a downward slope. According to him, the lower yield drove the equity market (COMP-INDEX) higher.
In the next part of this series, we'll analyze Bill Miller's view on bitcoin.